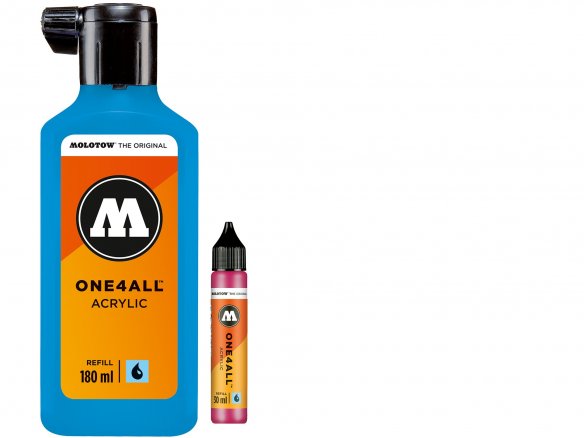 acrylic-based hybrid paint, solvent-free, dilatable with water and acetone, paint-like coverage, semi-gloss, quick-drying, excellent UV and weather resistance, waterproof and smudge-resistant, refillable, odourless, comes in plastic bottle with tapered dispenser
The One4all refill paint can be used to fill a marker but also can be thinned and used with an airbrush. But that's not all – it can be applied with a brush, sponge, a piece of felt, a rubber stamp, a carved potato or with a finger! In addition, you can also intermix these paints in a marker and thereby increase your colour spectrum immensely.
Refilling a marker is easy: first you screw the head of the marker off, then pull the valve piece out – the "tank" is now open for filling (capacity: 127HS/5 ml; 227HS/9 ml; 627Hs/30 ml) directly from the refill bottle.
Please note that at this time refills for the metallic colours are not available.
Molotow One4all paint marker REFILL paint
94 Variants