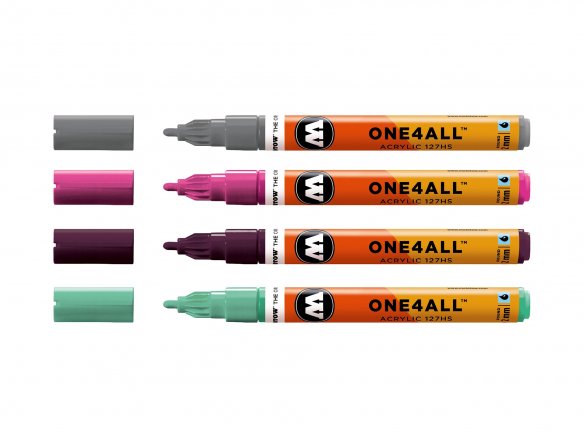 acrylic-based hybrid ink, solvent-free, can be thinned with water and acetone, paint-like coverage, semi-gloss, quick-drying, good UV and weather resistance, waterproof and smudge-resistant, refillable (capacity: 5 ml), odourless, replaceable tip, pump-valve with patented capillary system, mixing ball in the paint tank, transparent plastic barrel, cap is the colour of the ink
Paint markers are very special by virtue of the fact that their ink actually remains on the surface, thereby "covering" it and creating an especially strong colouration. The Molotow One4all fits into this category and even more that the other versions because the inks of this collection are richly pigmented, have an excellent opacity and provide a wide selection of colours. Its good opacity comes to light on both smooth and rough surfaces including metal, glass, most plastics, wood, textiles, stone as well as paper, cardboard and paperboard. As always, some plastics like PE and PP present more of a problem while silicone or greasy surfaces are their usual impossible selves.
The specific paint marker One4all is very special by virtue of the miscibility of its ink on one hand with water and on the other with acetone – it is for this reason that Molotow gives the marker the modern designation "hybrid". The advantage of this feature is that initially you have a largely odour-free, solvent-free paint marker whose ink can then be mixed with acetone if that is needed – the acetone improves the adherence on the surfaces of materials like leather or smooth plastics.
Application: As is the case with most paint markers, shake vigorously before using and then press the spring-loaded tip on a piece of paper a number of times in order to get the ink flowing. Our experience has been that these markers do not tend to dry out prematurely but we still need to mention two measures to take for prevention purposes or for the eventuality that serious difficulties arise: one, prophylactic wetting of the tip with water if the marker has been out of use for a long time and, two, in the case of a dried out tip you can try treating it with acetone in order to make it (hopefully) soft and usable again.
The chart below shows the contents of the respective sets.
| | | |
| --- | --- | --- |
| Molotow paint marker One4all 127HS Set | Modulor Art. No. | Contents (Molotow colour numbers) |
| Main kit 1 (18 HS markers + 2 HS-EF markers) | 326712 | 160, 006, 115, 117, 085, 013, 086, 200, 201, 042, 202, 204, 161, 020, 096, 092, 203, 180; 160, 180 |
| Neon kit, Set of 6 | 326703 | 160, 220, 218, 217, 219,180 |
| Tryout kit Basic 1, Set of 6 | 326650 | 160, 006, 085, 013, 204,180 |
| Tryout kit Basic 2, Set of 6 | 326687 | 200, 042, 161, 221, 206, 096 |
| Tryout kit Character, Set of 6 | 326696 | 117, 207, 009, 208, 010, 092 |
Molotow One4all 127HS paint marker
50 Variants