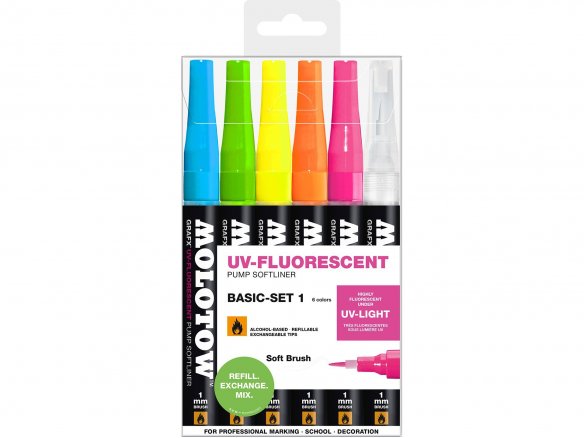 intense colours, permanent alcohol-based ink, fast-drying, refillable, exchangeable tips, pump valve with patented capillary technology, mixing ball in tank, transparent plastic barrel, cap is colour of the ink
The GRAFX UV-Fluorescent Softliner writes and draws with a nearly permanent ink that is very strongly fluorescent and extremely colour intensive under UV light. It can be applied to practically all smooth surfaces as long as they are indoors (with the exception of the usual problem plastics like PE, PP, POM, etc.). The tips are exchangeable and can, if necessary, be replaced by others (namely the tips with these numbers: 010, 011, 012, 031 and 032). In addition, the markers are refillable.
The "invisible blue" ink is, well, invisible, and colourless (is that redundant?) on most surfaces - there are some exceptions whereby visible edges will appear (do preliminary tests!). Once you have turned on your UV light, whatever you have drawn or written will appear in a pale blue hue.
This UV-Fluorescent Softliner is compatible with the GRAFX blender - it can be used to brighten up the neon areas or, alternatively, to gradate and modulate the colours.
Molotow GRAFX UV-Fluorescent Softliner
7 Variants