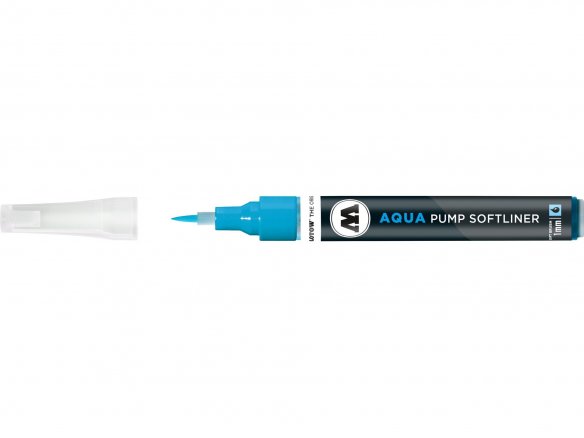 special water-based ink, semi-transparent, thinnable with water, washes out, excellent UV resistance, refillable (capacity is 11 ml), odour-free, food safe, ISO 9001 certified, exchangeable tip, pump valve with patented capillary technology, mixing ball in tank, transparent plastic barrel, cap is colour of the ink
The GRAFX is a marker with highly pigmented ink for colouring work, illustrations and watercolour painting. Its water-based ink allows you to work freely in doing precise and/or large area jobs. This very lightweight and handy marker with its fine, precise brush tip has become a widely used alternative to classic watercolour brushes. The ink of course remains soluble with water even after drying. This means that you can do some watercolour painting in a train and on your lap without a great song and dance or a waterglass.
As a "ready" pen (there are also empty markers, other tips and refill inks), the GRAFX pump softliner comes with a very soft edge brush tip that is designed for watercolour painting. It goes without saying that the special ink (diluted, undiluted, or mixed with other colours) can be added to empty markers and also that other tips can be inserted. If, for example, you need to do some large area painting work you can choose a Molotow dripstick or the 711EM empty marker with its line width of 60 millimetres.....There is wide range of possibilities: all the empty markers can be used, the paints can be intermixed, the tip interchanged. The empty markers can of course also be simply used as a pure water brush.
The inks are food safe, which means that children can use it or be around it without any concerns.
Where is the "pumping" mentioned in the name? And how does that work without ruining the tip? Molotow has thought of everything: you simply put the marker tip into the hollow area found at the thin end of the marker end cap after standing it on the wider base. This way the tip is untouched as you pump the marker by pressing it down and releasing. The colour will be very rich when you completely fill the nib but will become thinner as you use the marker as long as you don´t re-pump it!
Molotow GRAFX Aqua Ink pump softliner
16 Variants