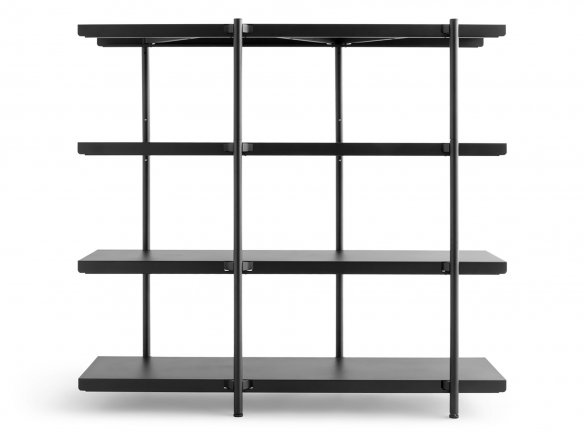 Pearled surface
Flexible and expandable
Rugged and durable
Free-standing or wall-mountable
Black or white
Material

steel, lacquered (robust powder coating), pearled surface

Color

black or white

Load capacity

50 kg per shelf, 350 kg per complete unit

Shelving Unit Base

935 mm (height) x 1101 mm (width) x 367 mm, without shelves, requires 3 shelves

Top shelf

400 mm (height) x 1101 mm (width) x 367 mm (depth), without shelves, each designed for an additional shelf

Shelf

45 mm (height) x 1467 mm (width) x 340 mm (depth)

Book support

332 mm (height) x 215 mm (width) (2 pieces each)

Magnetic book support

250 mm (height) x 250 mm (width)

Wall mounting

1.5 mm, without screws (2 pieces each)

Row connector pieces

1.5 mm (2 pieces each)

Corner connectors

1.5 mm (2 pieces each)
This is how you assemble your Z shelf:
1) Choose a shelving unit in the color of your choice.
2) The unit needs three shelves. Choose three shelves in the color of your choice.
3) Are you looking for a high shelf? In addition to a basic shelf and three shelf bases select a top shelf and an additional shelf bases. Do this until your desired height is reached. Please inform yourself regarding the recommended heights of freestanding shelves as opposed to shelves fixed to the wall under points 4) and 5)
4) Should your shelving unit be free-standing? If your shelves are free-standing, we recommend a unit with a maximum of four shelves, i.e., one base shelf plus one top shelf plus four shelves.
5) Will your shelving unit be on the wall? If your shelf should be mounted to the wall, we recommend a basic shelf and top shelves for a maximum of seven shelf bases. To secure a high shelf from tipping, select two wall fixings for four shelf bases. The quality of the wall is decisive for the choice of dowels. Ask your local DIY store for advice and choose a good solution.
6) Are you looking for a long shelving unit? Choose as many basic shelves as you need until the shelf is long enough. Then choose a sufficient number of row connectors and wall brackets to connect your shelves together. We recommend at least two x two row connectors for connecting two shelving unit bases.
7) Do you want to put your shelves in a corner? The same applies here as for long shelving units (6). We recommend at least two x two corner connectors to connect two shelving units together corner by corner.
8) Do you want to fill your shelves with books? Select bookends for the ends of the shelves and magnetic sliding bookends for more flexibility. So you can easily divide your shelf into areas with different functions: For books, booklets or magazines, travel souvenirs, vases, drawings, picture frames or bowls as well as crockery or crates, etc.
Our Z shelving system offers plenty of storage space and is remarkably resilient without appearing massive or cluttered. Its height and width can be easily adapted to individual conditions. Whether as the standard version (basic shelf) with approx. 150 cm width x approx. 95 cm height and only three shelves, as free-standing, approx. 300 cm or 450 cm long room divider, or as approx. 250 cm high wall shelf. The Z shelf is extremely versatile and has an attractive appearance both in a low (min. 3 shelves) and a high version (we recommend max. 7 shelves).
The name of our shelving system derives from the eye-catching construction of the shelf supports on which the laterally projecting shelves are located. All components of the unit are made of laser-cut steel sheets with a thickness of min. 1,5 mm and profiles in various cross-sections and are provided with a high-quality powder coating. The powder coating gives the shelves an abrasion-resistant and hardy surface, which is easy to clean with a soft cloth. With a uniformly distributed load, a shelf can be loaded with up to 50 kg and a unit with up to 350 kg in total, depending on the choice of material.
Infinite number of possible combinations
You can position the Z shelf in the middle of the room or on the wall. In addition, it's possible to connect several Z shelving units to each other or to place them in corners using row and corner connectors. Have a look at the points above regarding the compilation of your shelf. Because the individual components of the unit can be freely selected (see dropdown), each part can have a different color. For many more colors, visit our Z shelf system to put together a shelf no one else will have.
Wooden shelves instead of metal shelves?
We recommend that you always combine the base and top shelves with our matching shelves made of metal as all the accessories are matched to the metal shelves. You can also lay wooden flooring on the supports and screw them through the holes provided in the crossbars. The required screws are not included.
The structure: with time and patience
Please note that the construction of the basic shelving can be a minor challenge due to the interweaving of the supports with the shelves. Take your time and read the assembly instructions and then your beautiful shelving unit should be ready soon.
Modulor Z shelving system
16 Variants
Extension unit
Basic shelving unit
Attachment
Bookend
Shelf base