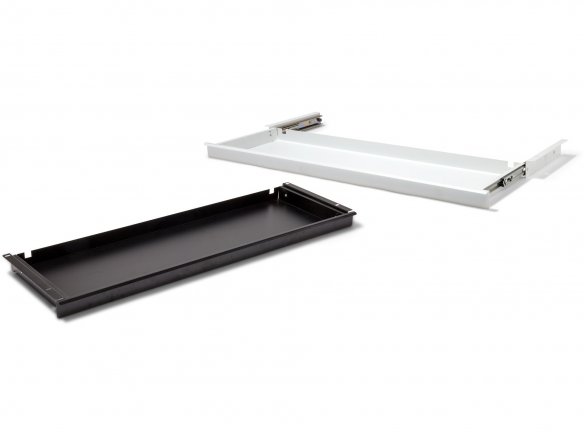 Simple installation
Very shallow and minimalistic
For laptop, tablet, smartphone, etc.
Can be mounted on all tabletops without a circumferential frame
Good value for the money
Material

sheet metal from powder-coated steel

Size

850 (780) x 45 x 265 (250) mm or 500 (430) x 45 x 265 (250) mm (Width x Height x Depth)

Color

white or black

minimum lenght of frame Y Table

650 mm resp. 400 mm
Good to know: SPAX screws are required for screwing the drawer to the underside of the tabletop, which are not included in the scope of delivery.
Leaving a workspace tidy and ready-to-go for work the next day is now easy to achieve with the Modulor Desk Drawer. The minimalist drawer helps to hide the many small office supplies that are often scattered over the entire desk quickly and discreetly.
The flat storage compartment is screwed directly to the underside of the tabletop. Made of powder-coated steel and available in white and black, it fits discreetly under the desired tabletop and is only visible from below. The table frame, or more specifically, the edge of the frame, should follow the table's edge or wrap around it so that the frame and drawer do not interfere with each other.
The front of the drawer forms a plain surface, the upper edge of which is folded about 10 mm forward. Therefore, the handle is easy to feel and you can gently pull the drawer open at once. With a width of 850 mm and a depth of 250 mm, it can store not only papers, stationery, rulers, scissors, and folders, but also smartphones, tablets, and laptops.
Modulor desk drawer, metal
4 Variants