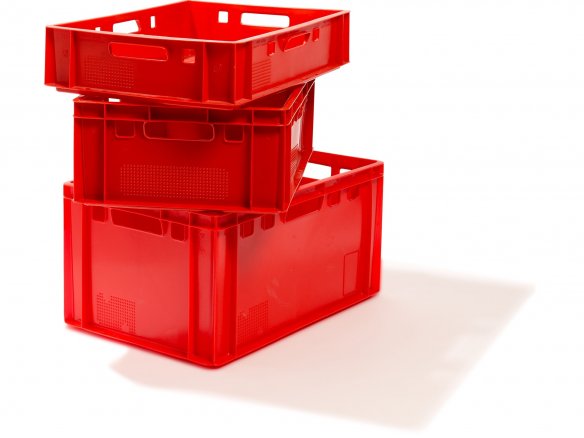 PE-HD (high density polyethylene), temperature resistant from –25 °C to + 70 °C, dishwasher safe, food safe per DIN 55423 and the requirements of the EHI Retail Institute, 4 grip holes – one in the middle of each side; given dimensions: outer measurements (height x width x length)
Baker's crates have holes on the sides and the bottom in order to allow air to get to warm baked goods but these meat crates have closed surfaces on their sides and bottom, as you might expect. You could actually fill them with unpackaged meat if you wanted because the material from which they are made is food safe! We have found, however, that other things besides meat can find a home here just as well. As sturdy and robust as they are, there is pretty much no limit to what you can store in them, stack in them or transport in them – which is why we carry them (we don't sell meat!).
Injection mould crates are often put up for sale – these, however, have a stable frame structure and a more than adequate wall thickness, making them dimensionally stable, robust and non-breakable. In a word, they are special! To he who asks `what is with that knobby area on all the sides? ´ we can only aver that they are for temporary labels because the knobs make it that much easier to remove a stuck on label (for obvious reasons!).
The given stacking height is less than the given outer height measurement because the sunken bottom will "disappear" into the crate below it upon being stacked.
The inner dimensions, weight and volume of the different crates are as follows: (Note: the volume in liters corresponds to the bearing capacity in kilograms)
Crate with stacking height of 115mm: 120 x 365 x 565 mm, 1500 g, 25 liters
Crate with stacking height of 190 mm: 195 x 365 x 565 mm, 2000 g, 40 liters
Crate with stacking height of 290 mm: 295 x 365 x 565 mm, 3000 g, 60 liters
Meat crate, red
Note
Please note that we can only ship large quantities of this article per forwarding agency which means that there are higher shipping and handling costs.
Accessories and Related Products