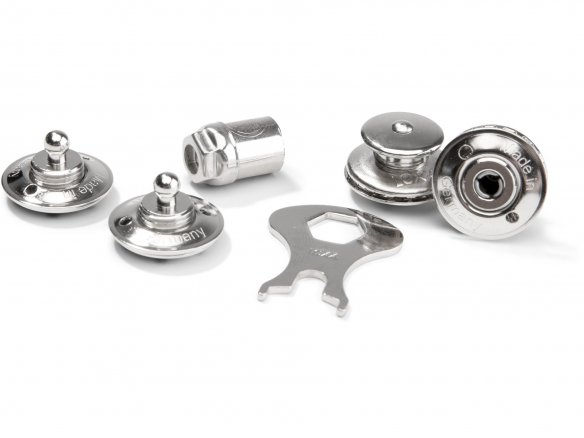 Sewing-free quick lock
For solid fabrics, webbing, and leather
Easy to attach
Reusable
Made in Germany
Material

nickel-plated metal, silver, rust-proof

Measurement

ø = 20 mm

Content

2 pieces (two pieces each for the top and bottom parts), mini hole puncher, fixing tool, manual
Hard to believe: The smart Loxx quick lock has been used in seafaring to fasten covers of all kinds for over 60 years! For us, that means it can withstand quite a bit, and you can be sure that with Loxx, you have a high-quality fastener for your bag. There's no sewing for you involved in the assembly. And since you screw on Loxx fasteners instead of irreversibly driving them in like rivets, you can reuse all the parts.
The two-part Loxx quick lock automatically closes and secures itself in that the premium steel spring of the top part (similar to a coupling device) positions itself around the spherical head of the bottom part and reliably interlocks. Simply pulling the cap up makes the spring release the spherical head, breaking the connection.
Here's how it works:
The top and bottom parts both consist of two parts each that are connected by a screwcap.
To pre-punch the bag material, you need the accompanying mini hole puncher (the small cylinder with the hexagonal head), the insertion tool to fix the hole puncher in place, and a hammer to drive in the hole.
Stick the fastener with the thread through the punched-out hole, and on the other side of the material, set the mounting plate on the thread. To screw in the two parts, stick the fastening tools in the small holes of the plate and turn them clockwise tightly. Fasten the opposite side on the other side of the bag in the same way. Done.
Loxx quick fastener to bags, self-locking, 2 upper-/lower pieces ø=20 mm, tool, nickel-plated