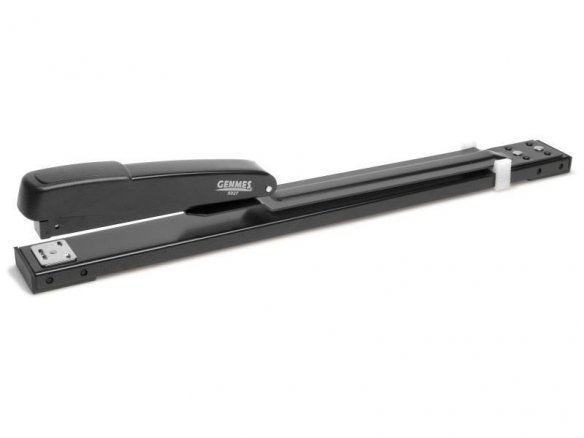 black metal housing, top loading mechanism, capacity is about 150 staples, can staple up to 2 mm of paper (ca. 20 sheets of 80 g paper), insertion depth is 300 mm, has adjustable paper stopper
This is exactly the stapler that everyone has always wished they had! It has an extra long arm that enables it to staple brochures in such a way that the staple can be placed much farther to the inside than what would be possible with a normal stapler. You are suddenly able to put staples in even difficult to reach places; you can even easily staple A3 sized booklets right in the middle!
The adjustable paper stopper enables you to set the insertion depth where you want it to remain, thereby alleviating the need to constantly figure out the right position of the stapler for each job.
Long reach stapler, for 24/6 and 26/6 staples