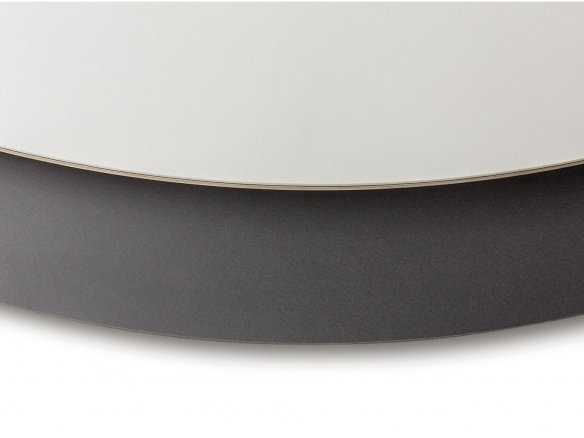 2 exquisite Linoleum colours: Vapour and anthracite
2 tabletop cores: MDF (Valchromat) in anthracite and multiplex
Open, finely sanded and moisture resistant edge
25° bevelled edge for a filigree appearance
Coating

One side with coloured Linoleum (2 mm), rear side with backing paper

Tabletop material

MDF (Valchromat) in anthracite (21 mm) or birch multiplex (26 mm)

Tabletop thickness

21 mm or 26 mm (including 2 mm Linoleum coating)

Tabletop size

Ø 1.200 mm
Stylish round tabletops with linoleum coating. Exceptional haptics (feel) and two elegant material combinations: MDF tabletop core with Linoleum coating in anthracite or multiplex tabletop core with Linoleum coating in vapour.

Our high quality linoleum tabletop with the bevelled edge has an edge bevel of about 25°. This special edge, which is also called a chamfer, angles down on the underside of the tabletop all the way to the middle. This accords the tabletop an elegant, intricate and less bulky appearance despite its great sturdiness. When used in combination with, e.g., a Y table frame (cross connectors + table legs), this linoleum tabletop looks noticeably thinner from a distance and seems to be almost hovering!

Linoleum – A unique and durable tabletop surfacing material

Linoleum is made from renewable raw materials such as wood, granulated cork, linseed oil and jute. Its homogeneous, matte but nevertheless non-slip surface is perfect for drawing or writing.  The material feels good to the touch, has anti-bacterial and antistatic properties and conducts electricity (its bleeder and contact resistance is between app. 109 and 1010 Ω). Because of these attributes, linoleum covered table tops are perfect for use in the therapeutic and technical realms. On top they make great writing tables but can be used as shelving or kitchen counters as well (short-term heat-resistance up to 70°C ).

A Valchromat or Multiplex core

You can choose a Linoleum coating with a tabletop core made of exquisite fully coloured MDF – so called Valchromat – both in anthracite. The noble alternative is a Linoleum coating in vapour with a classic multiplex core made of birch plywood. The edges of all tabletops are untreated, open-pored, sanded as well as moisture resistant and resilient.

The Y table frame with cross connector and the table frame M with frame rails of one size at each side are the ideal and stable base for both round Linoleum tabletops.

Good to know

Care and cleaning of linoleum is best done with special agents like Harell care and cleaning set for linoleum, which can be found in our product assortment. If you want, the edge can be treated and sealed with Biofarben hard oil or work top oil.

The colour of the linoleum coating that you see at the time of delivery will change slightly with time. The reason for this is the light yellow "drying-oven film" which will eventually disappear after the coating has been out in the daylight for a number of hours.
Linoleum tabletop, bevelled edge, round
2 Variants