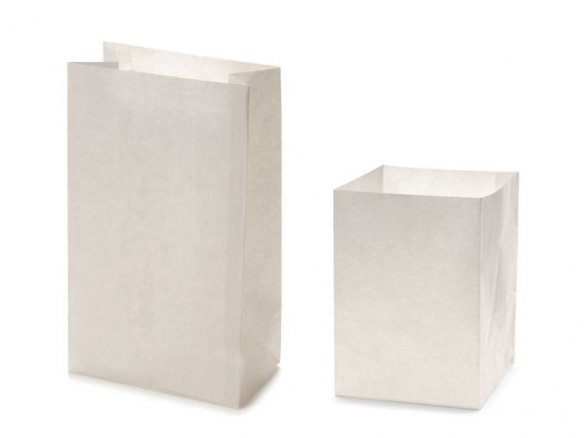 atmospheric decorations
indoor or outdoor use
reusable
endless design possibilities
translucent white, cellulose-based, reusable, short-term moisture resistance, can be used outdoors and indoors, flame-retardant (no certification!), comes without tea light (candle)
Candle bags or luminarias consist of translucent, flame-resistant paper. They can be used as simple gift packaging or as the illumination source (with a candle in them) during festivities either indoors or outdoors (on tables, stairs, path verges, etc.). Candle bags can be reused often because they are made of flame-resistant and moisture-resistant (short-term) material.
These sleek and neat white bags can be decorated in numerous ways including painting, printing, gluing, stamping, embossing, etc. Once the designing has been completed the candle bags are simply set up with a tea light or regular candle. Because candle bags are so lightweight (danger of falling over!), filling them with sand as "ballast" and placing the candle in a glass container is recommended.
By the way, candle bags originated in Mexico as a way to light the baby Jesus´ way into people´s houses on Christmas Eve.
Light bag basic, white
2 Variants
Note
Do not use on flammable surfaces and please keep out of the reach of children!