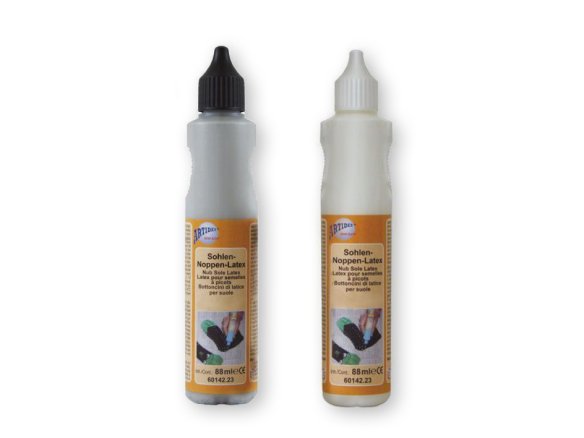 watery preparation consisting of natural latex, air dries, drying time 8-10 hours, washable up to 40 °C, no dryer
Description
Hazard warnings
Imagine, if you will, a pair of house shoes from the past (at least here in Germany): what you have is thick wool socks with leather soles that extend around the sides or thick wool socks with rubber pimples or nubs on the sole that serve as protection against slipping and sliding on smooth tiled floors or the like. Latex pimples is a medium viscosity liquid with which you can create your own house shoes. The coat application is sturdy and abrasion resistant, the adherence, especially in the case of textiles, is excellent (except perhaps for some of the new, modern smooth functional fabrics with a high percentage of plastic in them). This Latex pimple can, for example, be applied to smooth surfaces in sequential dots on the underside of devices and objects in order to add a coating, a buffer or slightly elastic feet to them.
This latex can be applied directly out of the bottle or, for somewhat larger areas, painted on with a brush. Particularly in the case of large area applications, you should expect a certain amount of shrinkage – for example, textiles will tend to contract slightly.
HAZARD__BLANK_, Bismutvanadat ≤ 2,5%, Zinkoxid ≤ 2,5%, Zinkbis(dibutyldithiocarbamat) ≤ 2,5%, Aquatic Chronic 3
Hazard warnings
EUH208: Contains (name of sensitising substance). May produce an allergic reaction. (EUH08 may be omitted if EUH204 or EUH205 has to be applied.)
H412: Harmful to aquatic life with long lasting effects.
Safety instructions
P101: If medical advice is needed, have product container or label at hand.
P273: Avoid release to the environment.
P501: Dispose of contents / container to …
Downloads