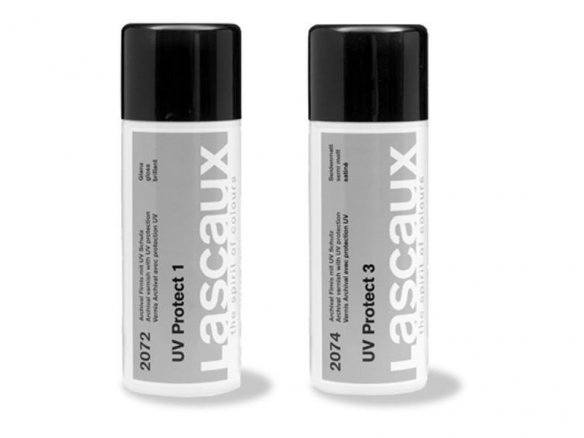 pure acrylic polymer with UV absorber, odour-free solvent, propellant gas without CFC, transparent colourless, archival quality (resoluble), abrasion resistant, waterproof, lightfast, age resistant, non-yellowing, can be painted over
Description
Hazard warnings
Lascaux UV Protect is a professional archival spray for the purpose of providing artwork with a lightfast seal when brushstrokes from a varnish application are not wanted. It is therefore especially good for use on raw and relief-like surfaces as well as on flat, monochrome ones. UV Protect can not only be used on all Lascaux paints but also on works done in oil, tempera, watercolours and pastells as well. In addition, this varnish has also been successfully applied to drawings, ink-jet prints, photographs and photo copies. Lascaux UV Protect is also found being used for conservation purposes and in restauration work.
Pre-tests should be made before spraying it on thinly applied water soluble paints. UV Protect must be evenly sprayed in thin coats from a distance of 20 to 30 cm using a circular motion. Every coat must be allowed a short drying time before adding the next coat. The thicker the varnish layer, the higher the degree of UV protection. UV Protect must not be applied under cold and moist conditions.
The term "archival" means that the varnish layer can be removed (resoluble). That can sometimes be necessary when a surface is extremely dirty or has been damaged.
Danger, PROPAN = ≥ 1 - < 5 %, N-BUTYLACETAT = ≥ 20 - < 25 %, 2-PROPANOL = ≥ 15 - < 20 %, BUTAN = ≥ 10 - < 15 %, DIMETHOXYMETHAN = ≥ 5 - < 10 %, DIMETHYLETHER = ≥ 5 - < 10 %, 2-METHOXY-1-METHYLETHYLACETAT = ≥ 5 - < 10 %, PARAFFINE (ERDOEL), NORMALE C5-20 = ≥ 1 - < 5 %, Eye Irrit. 2; Schwere Augenschädigung/-reizung: Kategorie 2A, Skin Irrit. 2; Ätz-/Reizwirkung auf die Haut: Kategorie 2, Aerosol 1; Entzündbare Aerosole : Kategorie 1, STOT SE 3; Spezifische Zielorgan-Toxizität bei einmaliger Exposition : Kategorie 3
Hazard warnings
H222: Extremely flammable aerosol.
H229: Pressurised container: May burst if heated.
H315: Causes skin irritation.
H319: Causes serious eye irritation.
H336: May cause drowsiness or dizziness.
Safety instructions
P102: Keep out of reach of children.
P210: Keep away from heat, hot surfaces, sparks, open flames and other ignition sources. No smoking.
P211: Do not spray on an open flame or other ignition source.
P251: Do not pierce or burn, aven after use.
P261: Avoid breathing dust / fume / gas / mist / vapours / spray.
P264: Wash … thoroughly after handling.
P271: Use only outdoors or in a well-ventilated area.
P302+P352: IF ON SKIN: Wash with plenty of water / …
P304+P340: IF INHALED: Remove person to fresh air and keep comfortable for breathing.
P305+P351+P338: IF IN EYES: Rinse cautiously with water for several minutes. Remove contact lenses, if present and easy to do. Continue rinsing.
P312: Call a POISON CENTER / doctor / … if you feel unwell.
P332+P313: If skin irritation occurs: Get medical advice / attention.
P337+P313: If eye irritation persists: Get medical advice / attention.
P410+P412: Protect from sunlight. Do not expose to temperatures exceeding 50°C / 122°F.
Downloads
Lascaux UV Protect varnish
3 Variants