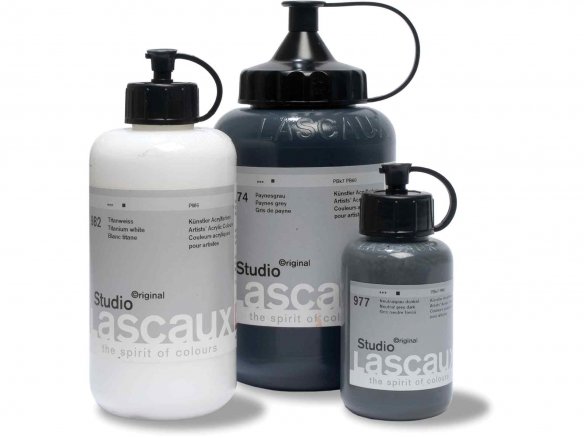 lightfast (non-fading) pigments in pure acrylic polymer, water-based, great for airbrush and screen printing, viscous, high degree of coverage, can be thinned with water, satin-matte, elastic and hard at same time and waterproof when dried, colours can be intermixed, age-resistant, non-yellowing, weather-resistant, very good to maximum lightfastness depending on the colour; working temperature: minimum of 10 °C, shelf life after opening is 5 years, corresponds to the European Safety Norm EN 71-3 (toy safety)
Lascaux Studio Original is a universal acrylic paint for artwork, design and decorative purposes and is suitable for use with all painting techniques including airbrush and silk screening. It can be use for detail work as well as for wall designs and large area painting because it is so easy to apply. Its homogeneous coverage makes it ideal for creating monochrome surfaces: it has a high degree of spreadability and even amount of brightness. The difference in the appearance of wet and dry colours is minimal. Surfaces to be painted must be grease-free and can also be treated with primer or modelling paste depending on the desired amount of absorbtion and texture. It can be applied pure with a brush or spatula or as a glaze when thinned with water by up to 20%. Dried coats can be painted over with as many more coats as you want.
For use with an airbrush (nozzle size of at least 0.15 - 0.5 mm) Studio acrylic paint must be thinned with water. The ratio of paint to water should be between 1:1 and 1:3. For screen printing an additional screen printing agent for thickening the paint and slowing drying is necessary.
Finished work can be permanently protected with Lascaux acrylic transparent varnish, which also makes it easier to clean. If a natural aging effect is desirable for a highly lightfast paint, the protective varnish should not be applied.
The set of 12 includes: titanium white, lemon yellow, permanent yellow medium, vermillion, carmine red, cobalt blue, ultramarine deep, permanent green light, emerald green, light ochre, English red, oxide black
Lascaux Studio acrylic paint
150 Variants