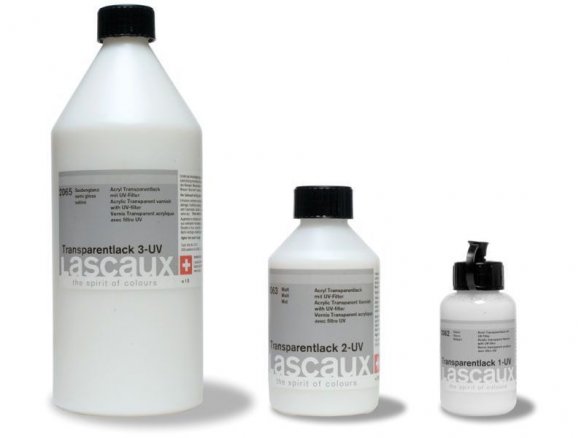 pure acrylic dispersion with UV absorber, can be thinned with water, abrasion-proof, waterproof, weather-resistant, age-resistant, lightfast, for stable and flexible surfaces; coverage rate: about 40-70 ml/m² per coat, shelf life after opening is 4 years, physiologically and toxicologically safe
Application: Lascaux acrylic varnish UV is a protective agent with UV absorber that can be used on acrylic paint work in the outdoors as well as for ink-jet prints and gold leaf work. It is especially effective in improving the lightfastness and weather resistance of the acrylic colours that have the lowest level of these attributes, namely, yellow, red and yellow-green - after treatment these, too, can be used outdoors without any problem. When used to coat the metal hues 990, 991, 992, 993, 994 from the LASCAUX STUDIO BRONZE ACRYLIC PAINT product range it serves to prevent any oxidation in indoor areas.
Treatment: When using it as a protective varnish for acrylic paint work, the instructions are the same as for LASCAUX ACRYLIC TRANSPARENT VARNISH but it should be noted that at least two coats that are thinned up to 25% with water must be applied. The desired UV absorption is only attained after the coating has reached an adequate thickness. The working temperature should be around +8 °C  at normal moisture levels (40 to 60%). Also note: UV protection is only attained by applying the varnish to a finished work - adding UV transparent varnish to your acrylic paint will have no effect.
Lascaux acrylic varnish UV
8 Variants