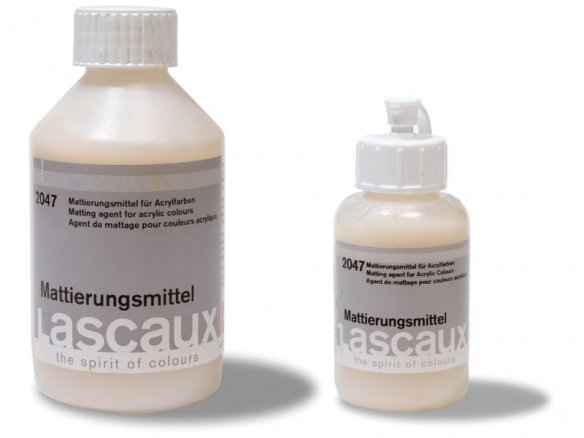 aid for attaining a matte effect for acrylic paints, silicic acid with acrylic polymer in water, semi-transparent, matte and water soluble when dry, can be thinned with water, no binders, lightfast (non-fading), age-resistant, additive proportion for acrylic paints: 20-30%, shelf-life when unopened: 4 years, physiologically and toxicologically safe
Lascaux matting agent can be added to acrylic paint in order to change the paint´s otherwise satin-matte appearance (when dry) to instead a matte effect similar to gouache or tempera colours. In addition it is great for making acrylic paints for supplementing or re-touching lime or casein paintings at any stage. Please note that this matting agent should only be used with water-based painting systems and only for work that is indoors.
The additive amount of 20 to 30 percent should be slowly stirred into the acrylic paint. The more matting agent you add, the higher will be the loss of transparency and bonding strength as well as the paint´s resistance to water and scratching.
Lascaux matting agent, plastic bottle, 250 ml