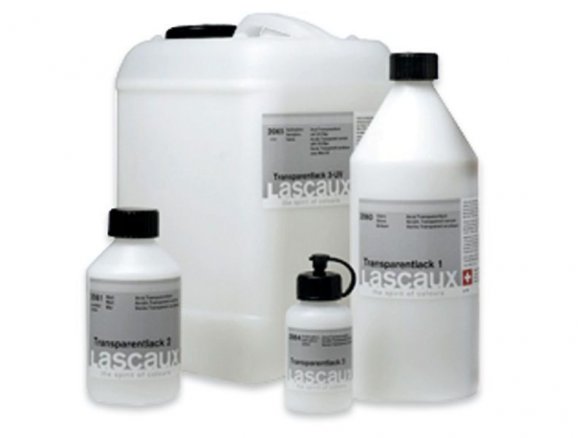 pure acrylic dispersion, can be thinned with water, abrasion-proof, waterproof, age-resistant, lightfast, for stable and flexible surfaces; coverage rate: about 40-70 ml/m² per coat, shelf life after opening is 4 years, physiologically and toxicologically safe
Application: Besides increasing colour intensity, Lascaux acrylic transparent varnish also increases the resistance of a finished piece of work to dirt, mechanical strain and makes all cleaning work much easier. In addition to its being used as a protective varnish for acrylic and ink-jet artworks, it can also be directly mixed into the paint, thus increasing its adherence and hardness. This transparent varnish can also be used for impregntion purposes (sealer) as well as wood varnish for wood, plywood and compressed wood fibreboards (HDF, MDF).
Processing: When being used as a protective varnish for acrylic artwork this varnish should be thinned with 25% water and applied with a spray bottle or brush. After an intermediate drying time of 4 to 6 hours, another coat should be added. The three different varnishes are intermixable, which allows the gloss level to be controlled according to your need. The semi-gloss varnish increases the resistance capabilities of acrylic paints without changing their amount of glossiness. For protecting ink-jet prints, applying the varnish with a spray bottle is recommended. A roller or a wide flat paintbrush can also be used, but in that case great care must be taken to avoid bubbles developing.
In order to increase the hardness of acrylic paint, 25 to 50% transparent varnish should be added.
Lascaux acrylic transparent varnish
9 Variants