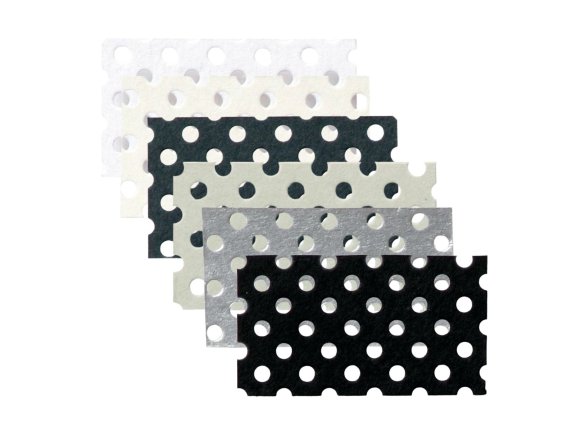 material

punched paper board in various thicknesses and designs

Perforation

RV=round perforation, staggered, 2.0/6.0=2mm hole diameter, 6mm gap
Punching holes in cardboard may look like a simple undertaking at first glance – I mean you only have to put the cardboard in the place where the sheet metal usually goes (that's the lay person thinking!). Unfortunately, that's not the way it is because the result would be, yes, lots of punched holes but the material would be completely covered with grease and oil. And this is precisely the reason that only a few special producers offer perforated board for sale. We have found a company where we can have the material punched for us and hope that we can, with their help, satisfy the demand for small amounts of perforated board in large sizes. Perforated board is an attractive material for making high quality displays, decorations, book covers, boxes, etc. It can be worked with in the same manner as normal unperforated board. For an explanation of the designations used to describe perforated materials please see the information section under the heading perforated plates.
Large perforated board, RV 2.0/6.0
12 Variants
Note
The given weight of the board is that of the material before it is perforated.