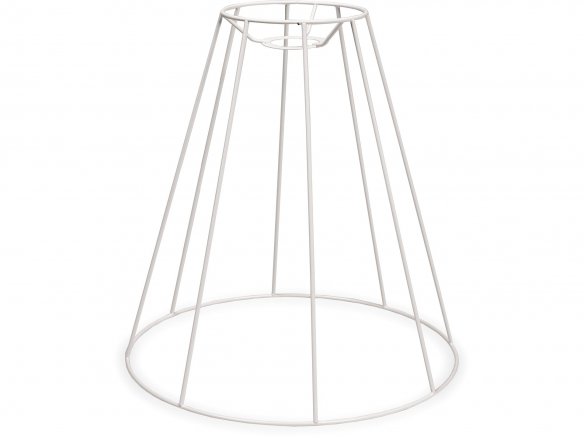 3 millimetre steel wire painted white (diametre can vary depending on the size), flush welded, for E14/E27; given dimensions are approximate
This selection of conical lampshade frames is intended for making pendant lamps – with the larger of the two metal rings on the bottom. The mounting ring for attaching the bulb fixture onto the shade frame is located in such a way that the light bulb cannot be seen from any normal viewing angle (namely, it is attached to the small ring and not sticking out below the shade).
The approximately 3 millimeter steel wire vertical struts of the frame can be cut off with a side cutter after the shade material has been attached (see: Information about Lampshade Frame). This should be done when the covering material is thin enough and transparent enough that the struts can be seen as dark lines – not usually a nice look!