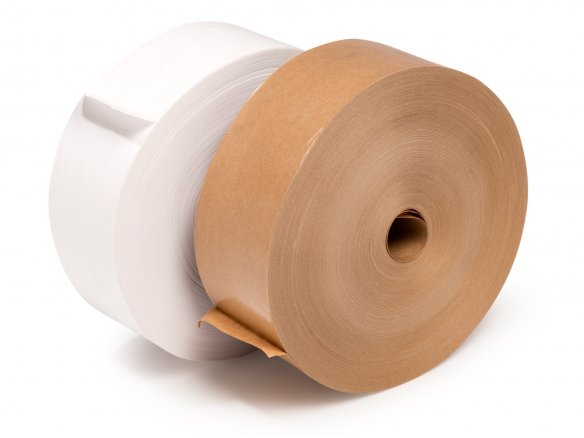 gummed, unreinforced, 60 g/m²
Applications: Adhesive strips made with gummed paper are primarily used for closing up shipping boxes (cartons) that are made of corrugated board and solid fibre board as well as other packaging made from paper and cardboard. It can also be used as reinforcement and for bundling and strapping. These strips, however, will stick to more than just paper and cardboard – it sticks very well to wood as well. One special use is as an "edge band" or "edge protector" for honeycomb boards whose open edges are not always as attractive as one would like. Naturally, this wet adhesive tape can also be used for many other handicraft jobs and bookbinding work or simply for affixing paper or cardboard (e. g. for fixing watercolour or acrylic painting surfaces on wooden panels). When making picture frames, it is used as a means of bonding the passepartout to the back side of the frame. It is not, however, suitable for museum use because it is not acid-free.
Treatment: Wet adhesive tape can be manually moistened with a sponge or a paste brush; in the case of larger areas, the material to be glued can be directly moistened (if it is not especially sensitive to moisture).
Kraft paper wet adhesive tape
4 Variants