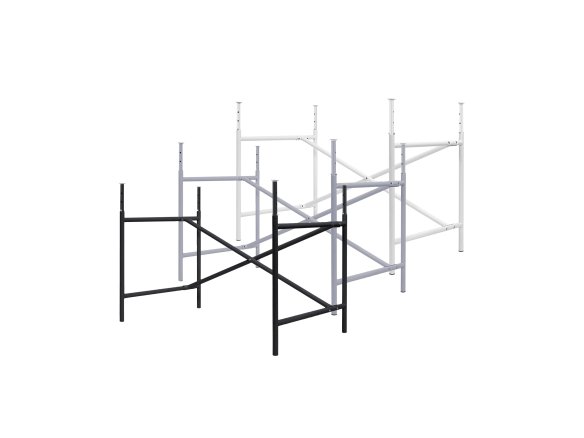 classic design
Made in Germany
for children of all ages
sturdy and durable
removable
material

Steel tube, round, ø 21.3 mm (1/2"), wall thickness 1.75 mm

Surface

powder-coated, white (RAL 9016)

set content

2 side parts for offset cross h = 520 mm, t = 600 mm, 2 cross struts l = 1000 mm, 4 height adjusters l=228mm, accessories

Accessories

various PVC plugs and suction cups for fixing the table top and safety screws for the height adjusters

Design E2

Adam Wieland 1965 - derived from the original design by Egon Eiermann from 1953
What could be more attractive in a table frame system than that it can be used as a piece of furniture that can grow larger as the child grows himself. The child´version of the E2 table frame can, with the help of the height adjusters, start at a height of 550 mm (including a 22 mm table top in place) for six year olds and be expanded to a height of 750 mm (normal table height) thereby making it useful from the first grade all the way to graduation.
The heights to which it can be adjusted correspond to those that are set out in EN 1729/E 1995 (European norm). The crossbar struts of the table frame when attached are offset from the middle of the side frames (away from the front of the table) so that even a long-legged 15 year old still has enough leg room to do his homework comfortably.
In order to secure the height adjusters, we have developed a clever solution: instead of the usual metal pins used for the normal E2 table frame to stick through the height adjustment hole, the child's version has an easily mounted screw with a bushing which cannot come loose.
In order to secure the table top on the frame so that it won't slip, the height adjusters are outfitted with suction cups which, in comparison to a screw based attachment, have the advantage that the underside of the table top remains undamaged so that the table top can be turned over when the top surface has become marred.
As a fitting table top for the E2 table frame for children we have on offer the Melamine tabletop with beech wood edge band in the size 22 x 680 x 1200 mm. Coloured table tops can be found under Linoleum tabletop.
Kidz table frame E2
5 Variants
Accessories and Related Products