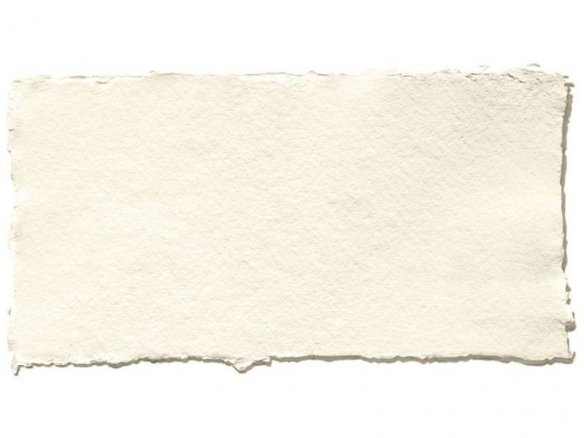 handmade paper made from 100% cotton fibres, 4 original deckle edges, surface is sized, acid-free (pH = 7.0)
Our artist's rag paper is produced in India at the "Khadi Paper Mill", a joint venture of British paper enthusiasts and Indian paper makers. The result of this partnership is a paper program that not only has markedly better quality than one might expect from India, but, in the case of the artist's rag paper, has created one of the best aquarelle papers in the world.
Khadi uses for its paper production only cotton cuttings which come from a local T-shirt manufacturer because using just such so-called "cotton rags" with their longer fibre enables better, more compact and sturdier varieties to be realized than could be achieved with the short fibred cotton linter which comes exclusively from cotton seeds. Further information about Khadi can be found in the general text for handmade paper.
Because the surface of the paper is sized with gelatine, watercolours are only absorbed very slowly by the artist's rag paper and that without corroding its surface.
With its 320 g/m² the paper is so sturdy that it does not necessarily have to be stretched for painting work. If it is nevertheless to be stretched, care should be taken that the unique characteristics of handmade paper with its irregular fibre running direction be respected and that you not work "against" it. The 640 g/m² version almost seems like a piece of cloth and is especially suitable for large format projects.
In addition to its suitability for watercolours, artist's rag paper can also be used with other types of paints and drawing techniques.
Khadi artist´s rag paper, white, rough
9 Variants
100 mm x 150 mm
150 mm x 200 mm
200 mm x 200 mm
200 mm x 300 mm
300 mm x 300 mm
300 mm x 400 mm
560 mm x 760 mm
700 mm x 1000 mm
Note
The given dimensions are approximate because each sheet is individually made.