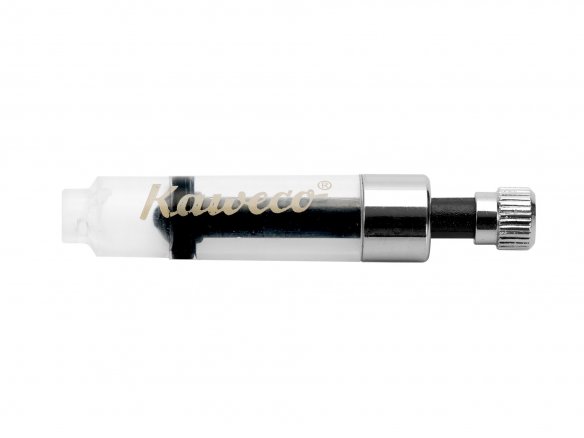 Environmentally friendly refilling of ink
Size correspondes to Euro-standard cartridge
Dimensions

Approx. 12.7 x 2.5 x 2.5 cm
The Kaweco Mini Converter is ideal for those who do not want to use standard ink cartridges but rather wish to pull the fuel for their pen from an inkwell. This refillable cartridge can be used with all writing inks that are compatible with fountain pens. Since drawing or Indian inks are generally too coarse for the ink feed, we advise against using them with this system. The Mini Converter corresponds to the classic Euro-standard cartridge and is suitable for all fountain pens from the Kaweco Sport series from 2016 onwards as well as many others.
The converter can be refilled easily and quickly: The tip of the ink reservoir is immersed in an inkwell and the ink is drawn up by means of a plunger much like filling a syringe.
For the first filling, you should generally repeat this process once or twice as the surface tension on the inside of the converter prevents a complete filling. If the filling is repeated, this tension will be reduced. When the converter is filled, we recommend releasing two or three drops of ink to allow for the inevitable expansion of the ink caused by the heat of one´s hand to occur with it forcing its way past the , which expands from the heat of the hand, from being pushed out past the nib and making blots.
Kaweco (Koch, Weber & Co. Heidelberg), founded in 1883, is one of the oldest in its sector today, offering high-quality writing instruments while successfully blending tradition and innovation. Kaweco writing instruments are well-known and unmistakable thanks to their striking octagonal shape and the round metal KA WE CO logo. The high-quality chased nibs and regulators for the Kaweco fountain pens are manufactured by the Heidelberg-based company, Peter Bock AG. The fountain pen inks, which feature intense colors and the highest quality level, have been specially developed for Kaweco in an ink laboratory.
Kaweco Mini converter, accessory for pens using standard cartridges