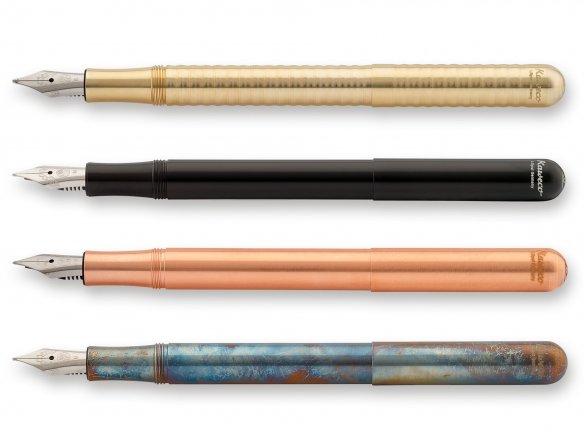 One of the small fountain pens in the world
Excellent transport
Solid metal housing
Copper and brass develop a charming patina
Material

Shaft and grip made of solid metal

Design

Stainless steel spring with iridium tip, cap with internal thread

Spring thickness

M

Closed length

97 mm

Length in open state

87 mm

Length with inverted cap

125 mm

Compatible ink cartridge

Kaweco

Accessories

Incl. blue ink cartridge and a metal box
The Liliput Fountain Pens are among the smallest in the world. And not only that: The Liliput series is also one of the oldest series made by Kaweco. As early as 1908 the company manufactured compact fountain pens—at that time still made of hard rubber. To this day, Liliput consists of only three housing parts: cap, shaft, and mouthpiece. The slim fountain pen is just large enough to hold a single standard cartridge. As a simple and stylish travel companion, it fits into every handbag and jacket pocket. The fountain pen is complemented by the matching Kaweco Liliput ballpoint pen. 
The fountain pen measures just 97 mm when closed. If the cap is screwed backwards, the length increases to 125 mm, a comfortable length for writing. The standard versions in black and silver are made of solid aluminum rotary parts. They impress with their light weight. The Liliput Fireblue is made of over 1200°C blued stainless steel, providing its unique color. The fountain pens made of brass and copper develop a natural, attractive patina over time.
Kaweco (Koch, Weber & Co. Heidelberg), founded in 1883, is one of the oldest in its sector today, offering high-quality writing instruments while successfully blending tradition and innovation. Kaweco writing instruments are well-known and unmistakable thanks to their striking octagonal shape with round metal KA WE CO logo. The high-quality chased springs and regulators for the fountain pens are manufactured by the Heidelberg-based company, Peter Bock AG. The fountain pen inks in intense colors, and of the highest quality, have been specially developed for Kaweco in an ink laboratory.
Kaweco Liliput fountain pen
5 Variants