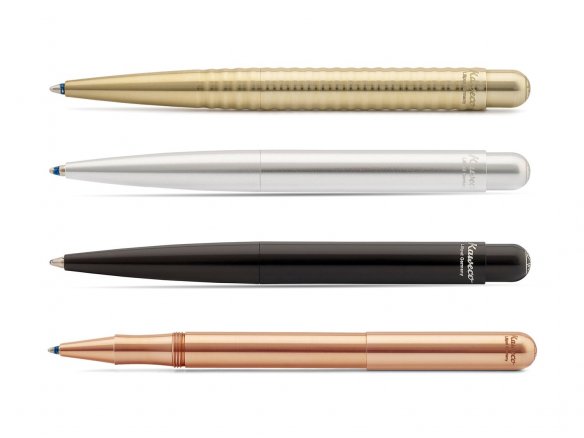 exchangeable metal refill, line thickness is 1.0 mm, ink colour: blue, barrel made of solid turned aluminium, length is 97 mm, heart-curve mechanism, comes in metal box, compatible refills in our assortment: Kaweco D1
The Liliput ballpoint pen from Kaweco matches the KAWECO LILIPUT FOUNTAIN PEN and, like that one, is a mere 97 mm long. It takes standard D1 refills – we carry them in three different line widths in both blue and black (see: KAWECO BALLPOINT PEN REFILLS). The Liliput is a simply stylish writing instrument that is perfect as a traveling companion that will fit in any pocket or handbag.
The push-button on the Kaweco ballpoint pens, which is equipped with the heart-curve mechanism, is especially quiet when employed – that means when you push the button you won't hear the usual "click-clack". The name "heart curve" gives an idea of how the construction looks: the ball that effectuates the switching runs along a heart shaped guideway.
Kaweco Liliput ballpoint pen
4 Variants