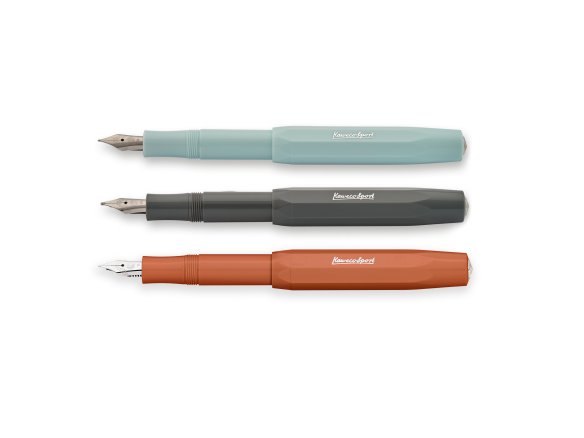 Distinctive octagonal shape
Silver accents
Trendy colors
Contemporary series of the Kaweco Classic Sport
Material

Shaft and grip made of ABS/Makrolon injection molded parts

Finish

Silver-colored steel nib with iridium tip

Spring thickness

M

Closed length

105 mm

Length with inverted cap

130 mm

Compatible ink cartridge

Kaweco

Accessories

Incl. blue ink cartridge and a paper box
The Kaweco Skyline Sport series is the contemporary version of the Kaweco Classic Sport. The Skyline fountain pen differs from the classic version with its silver accents. These include the high-quality silver name on the shaft, the silver metal logo on the head of the cap, and the silver-colored steel nib with iridium tip. The name Skyline expresses the silver, shining way of life found in large cities all around the world.
With a length of only 105 mm when closed, the Kaweco fountain pen is very compact. When the cap is attached and creating a length of 130 mm, the writing instrument sits nicely in the hand. To attach the fountain pen to a chest pocket or notebook, simply upgrade with a clip-on attachment.
It can also be used with the Kaweco Mini Converter.
Kaweco (Koch, Weber & Co. Heidelberg), founded in 1883, is one of the oldest in its sector today, offering high-quality writing instruments while successfully blending tradition and innovation. Kaweco writing instruments are well-known and unmistakable thanks to their striking octagonal shape with round metal KA WE CO logo. The high-quality chased springs and regulators for the fountain pens are manufactured by the Heidelberg-based company, Peter Bock AG. The fountain pen inks in intense colors, and of the highest quality, have been specially developed for Kaweco in an ink laboratory.
Kaweco fountain pen Skyline Sport
2 Variants