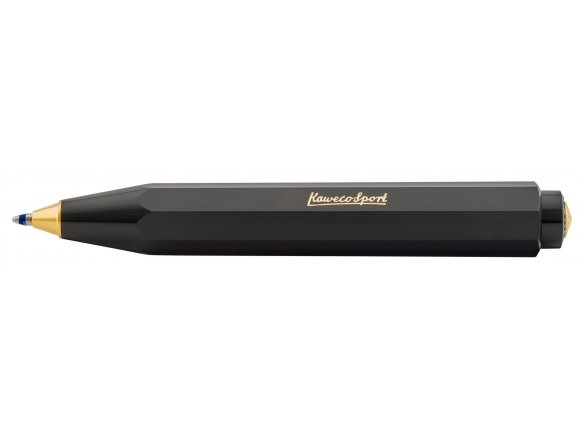 exchangeable metal refill, line thickness is 1.0 mm, ink colour: blue, hexagon barrel made of injection moulded ABS/Macrolon, length is 105 mm, heart-curve mechanism (dropping ball method of retracting tip), compatible refill in our assortment: Kaweco D1
Just like its colleague the KAWECO CLASSIC SPORT FOUNTAIN PEN, this ballpoint member of the collection with its telltale hexagon design is one of the few writing instruments that has been able to remain successful in the marketplace without making any changes at all. The pen is a compact 105 mm long, but its thick, hexagonal barrel still sits wonderfully in your hand when writing. It takes standard D1 refills – we carry them in three different line widths in both blue and black (see: KAWECO BALLPOINT PEN REFILLS). A beautiful PEN CLIP for holding the pen in your breast pocket or on a notebook is available separately and can be easily attached to this Classic Sport for those purposes.
The push-button on the Kaweco ballpoint pens, which is equipped with the heart-curve mechanism, is especially quiet when employed – that means when you push the button you won't hear the usual "click-clack". The name "heart curve" gives an idea of how the construction looks: the ball that effectuates the switching runs along a heart shaped guideway.
Kaweco Classic Sport ballpoint pen, black