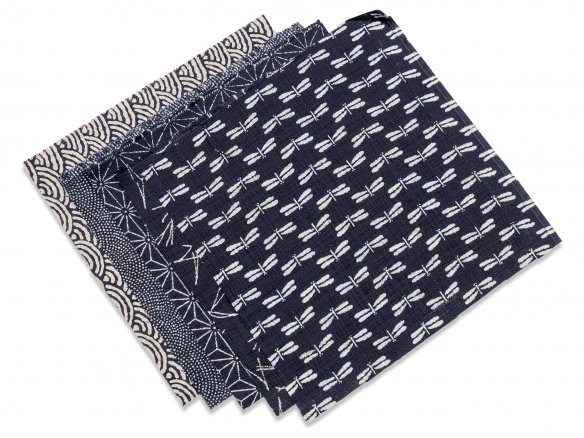 traditional patterns
classic dyeing process
made in Japan
Material

100% cotton, woven, linen look, printed on both sides

Colour

indigo blue, one side with white pattern, one with cream-coloured pattern

Dimensions

effective width ca. 1100 mm, doubled over

Care and maintenance

washable at 30°C (delicate detergent)
Woven kimino fabrics that have been dyed with the "Aizome" process (indigo dyeing) and are printed on both sides with traditional patterns belong first and foremost to the classical Japanese fabric culture. Made of 100% cotton with the look of linen, they are great for sewing clothing, accessories and bags or for quilting, patchworking, etc. etc.
As a rule, the patterns employed also have deeper meanings and are often used in Japan for special occasions and for certain kinds of clothing...
Seigaiha: This undulating pattern has been in use for over a thousand years! It is thought that the origins of this pattern hark back to a classical Japanese court dance in which the dancers are dressed in a kimino with an undulating pattern and perform wavy type movements with their sleeves.
Samekomon: This pattern is a stylized version of shark skin, which the Japanese believe is a protection against evil and illness (because of its hardness).
 Asanoha: This graphic star pattern is supposedly based on a stylized hemp blossom, which stands for growth and endurance.
Matsu: Pine needles symbolize longevity, stability and the wisdom of age and are usually used in connection with winter and new year.
Tonbo: The dragonfly is a symbol of bravery, strength and good fortune. Dragonfly motifs are usually found on children´s and young unmarried girls´ kiminos. 
 Sakura: Cherry blossoms are the Japanese national flower and are often found on Japanese kiminos. Because they symbolize the Samurai who in Japanese lore fight to the death for their country, cherry blossoms are considered a sign of loyalty, new beginnings, renewals (springtime), beauty and the transitory nature of life.
Fisch (fish): The shimmering scaly "dress" of the Koi fish or goldfish stands for strength, endurance, ambitiousness or, alternatively, wealth, good fortune and success.
Japanese kimono fabric in blue
7 Variants
Note
Minimun order amount is 0.5 running meters. Please note that articles cut from rolls cannot be returned or exchanged. The maximum length of a roll is 12 meters. If more than 12 running meters of this cotton fabric is purchased it will therefore be delivered in more than one piece.
Accessories and Related Products