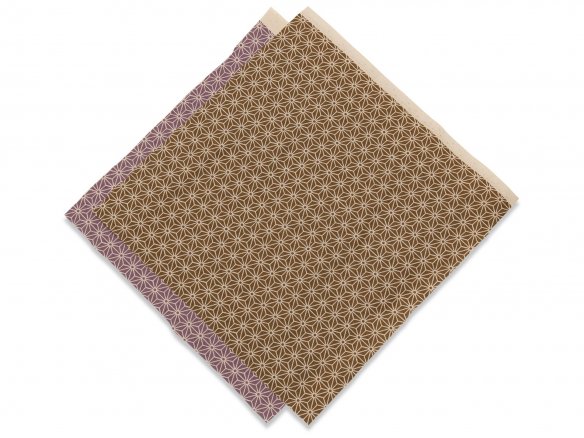 traditional pattern in various colours
printed on one side
100% cotton
made in Japan
Material

100% cotton, smooth, printed on one side

Colour

beige stars on coloured background

Dimensions

effective width ca. 1100 mm, doubled over

Care and maintenance

washable at 30°C (delicate detergent)
One of the most well-loved traditional Japanese print patterns is called Asanoha (Asa = hemp; no ha = leaf). Its existence goes all the way back to the Heian Era (794–1185). It  was used in former times for decorations of Buddha statues. The geometric design is distinguished by its overlapping, six-branched, rhombus-shaped stars that are based on stylized hemp leaves.
As a symbol for fast and healthy growth, it is traditionally used in Japan for kimonos for newborns (ubugi) - however this motif is also very popular among adults and it can therefore be found on many everyday objects.
The lightweight cotton is printed on one side and is good for sewing kimonos but it can also be used for modern clothing, bags, pillows, curtains or decorative objects as well.
Japanese Asanoha kimono fabric (stars)
8 Variants
Note
Minimum order amount is 0.5 running metres. Please note that products cut from rolls cannot be exchanged and that the maximum length of a roll is 12 metres. Order for this cotton fabric that are larger than 12 metres will consist of multiple pieces.
Accessories and Related Products