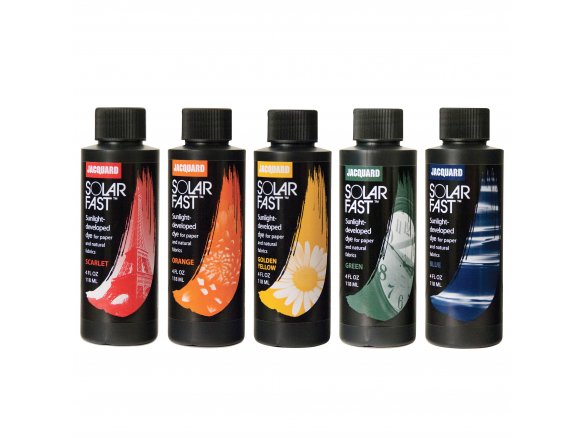 Content

118 ml

Packaging

bottle

Recommendation

Apply paint with a brush, sponge or roller. Also possible with spray bottle (see below)
SolarFast dyes are used to create photograms, endless photos, shadow prints and shadows on fabric and paper. It is also great for painting, dyeing, screen printing, stamping, batik and more!
Basic application:
1. apply SolarFast on fabric or paper
2. place and save image
3. exposure to sunlight (or UV)
4. washing ... and finished
For hard edges; use tape to create a window the size of your image. SolarFast is just thick enough to prevent bleeding - it will not creep under the masked areas and can be applied through a stencil. Remove tape before exposing it.
For brushed edges: simply brush the dye beyond the frame of the print.
An even color coating produces the best prints. SolarFast prints must be made while the dye is still wet.
SolarFast can also be applied by spray bottle or airbrush (diluted with water first) or by screen printing. (Thicken first with the SolarFast thickener).
Jacquard SolarFast
9 Variants