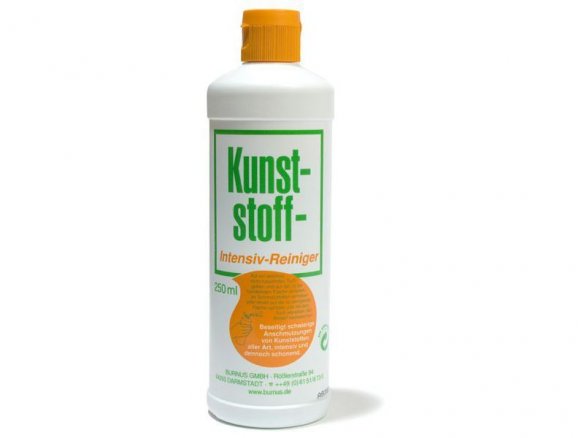 colourless, contains 5% anionic tenside, phosphate and aroma; antistatic, for heavily soiled surfaces
This plastic cleaner has a very high separation force and is great for removing heavy soiling that has been stuck for a long time on any kind of plastic surface. Even in attempts to remove various glue residues this product has proven to be quite effective (however, preliminary tests should be carried out). The cleaner is gentle on the material to be cleaned and has a slight antistatic effect. For a stronger and longer lasting anti-static effect we recommend our ANTISTATIC PLASTIC CLEANER/CARE.
A soft, lint-free and absorbent cloth is best used for applying this liquid in order to avoid scratches; special application cloths like SPECIAL ACRYLIC CLEANING CLOTH 2611 will guarantee excellent results. The cloth should be moistened as opposed to thoroughly wet with the cleaner. Any remaining moisture left on the cleaned surface is best left to simply dry in the air.
Intensive plastic cleaner, bottle 250 ml