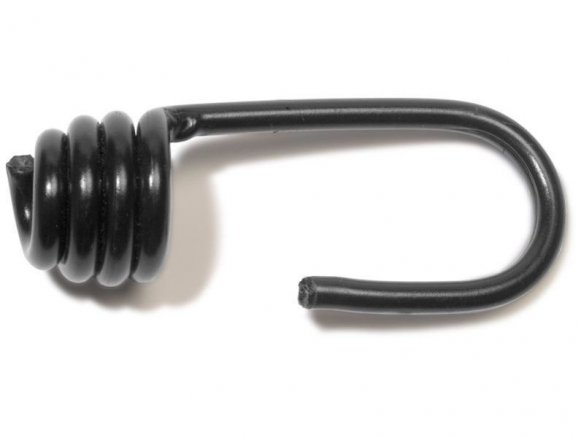 kunststoffummantelte Spiralhaken aus Stahl, Durchlass der Hakenöffnung ca. 14 mm
All you need to make your own bungee cord in any length you want are these spiral hooks, a pair of pliers, CABLE CLAMPS and an elastic cord with the proper diameter. When doing so, you can either put a hook at each end of the cord or join the two ends and attach one hook to form an elastic loop. For the latter, thinner cords must be used because you will be threading two cords through the opening at the bottom end of the spiral. That opening is only slightly larger than the dimension given for the corresponding cord. Of course these hooks can also be attached to non-elastic cords or serve as a way to join numerous thin elastic cords together at the ends.
To make such attachments, the end of the cord should be fed through the hook and made thicker by means of a cable clamp, which then prevents it from pulling back out again. You can also make a cord thicker simply by wrapping wire around it at the appropriate place – the success of that method, however, will depend on the level of your workmanship!
Hooks for bungee cords, steel
2 Variants