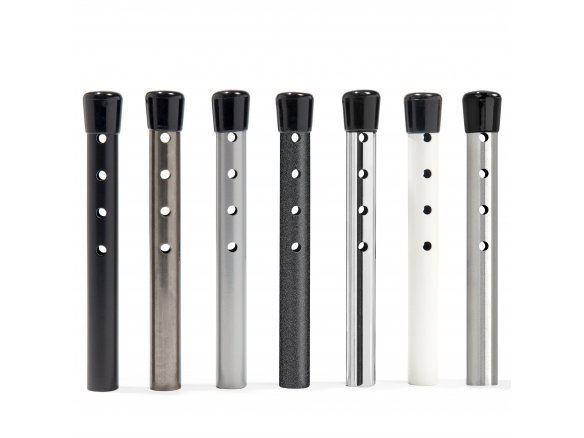 steel pipe, round, ø 17 mm, inner ø 14 mm, powder coated (except for chrome-plated, includes 4 adjustment set pins
The short height adjusters have four holes each with a distance between them of 20 mm which allows a heightening from a minimum of 26 mm to a maximum of 88 mm. The long height adjusters – with five holes which have a distance between them of 40 mm – make it possible to raise the table a minimum of 46 mm or a maximum of 228 mm.
When the height adjusters are equipped with hooded plugs the table simply lies on top of them whereas the adjusters with solid plates enable you to attach the table top with two screws so it cannot possibly slip or slide. Please keep in mind that the height adjusters will scratch when being raised or lowered and we therefore highly recommend the chromed versions.
Height adjuster for table frame E2
12 Variants
kurz (bis 88 mm)
lang (bis 228 mm)
Note
The table frame is produced by two different manufacturers and is as a result available in versions that have small differences between them. If you already own a table frame it is advisable when ordering supplemental articles that you check for compatibility. This is especially true in the case of accessories and height adjusters. If uncertainties arise it is best to just ask us!