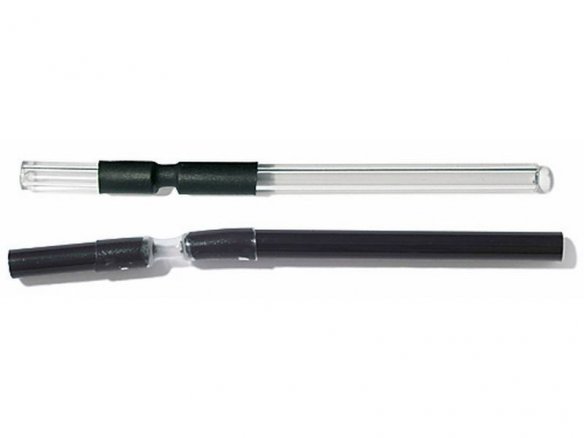 polyethylene crosslinked by irradiation, semi-gloss, shrinkage rate 50%, minimum temperature for shrinking 120 °C, changes lengthwise by shrinking ± 10 %, permanent temperature resistance -55 to +105 °C, elongation at break 450%, flammable, given value: unshrunken inner ø
Heat shrinkable tubing is a material that is normally used in electronics as a means of gathering many wires together into a harness. In the process, the tubing is slowly heated with a HOT AIR GUN or a cigarette lighter (carefully!) to a temperature of at least 120 °C whereby it constricts around the bundle of wires. This attribute can be taken advantage of in order to join together rod or bar shaped materials in such a way that a flexible, hinge-like union is produced.
The shrinkage of the basic, non-flammable version that we have on offer is 50%. If, for example, two rods with a diameter of 3 mm are to be joined together, a shrinkable tube with a diameter of 5.0 mm should be chosen in order to make a good union (min. ø 2,5 mm). The tubing can be heated to a temperature of 200 °C – it will not form liquid drops, will not flow and will not tear.

Heat shrinkable tubing, thin-walled
12 Variants
Note
Please note that no exchange is possible in the case of products cut from rolls.