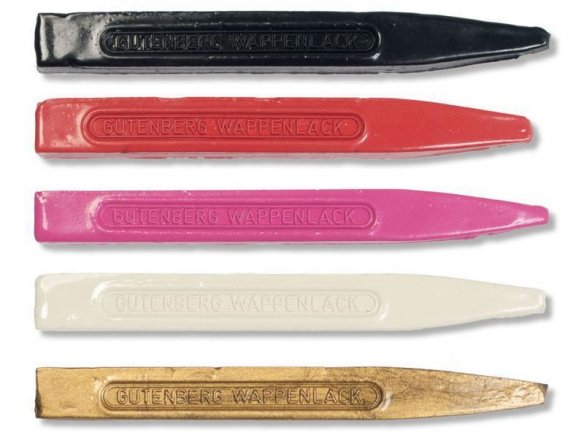 Description
Hazard warnings
What most people know nowadays: sealing wax is used to seal letters and assures that no unauthorized person can open them without it being noticed. Sealing wax, however, can also be used artistically or for decorating purposes and we look at it as a nicely quirky and multifaceted, plastic malleable material.
The crucial component of a good sealing wax is shellac - the more shellac, the better the quality. More shellac also means greater brittleness which consequently improves the fracture properties. Low quality sealing wax contain hardly any shellac and cannot hold a candle to the Gutenberg quality standard. 
Processing: Sealing wax should be warmed over an alcohol burner (less build-up of soot), with a soldering iron, with a cigarette lighter or, more traditionally, with a candle. The idea is to slowly heat the wax by continually turning it close to the flame. The turning helps to prevent premature dripping (any comparisons to sex are inappropriate). Once the wax is heated you can either let it drip or simply spread it on your substrate - in multiple layers if necessary. Another possibility is to heat the wax in a small pan (think: pewter casting) and once it becomes liquid to pour it where needed. If you heat the wax too much it will catch fire and burn with the resulting soot streaks whether you want them or not.
In order to form your wax application before it cools, you should use a a classic signet ring the way they have for hundreds of years. Or you can use a "signet" stamp made of metal, usually brass, that has an emblem, a lily, a skull or some other meaningful symbol. Actually you can press practically anything into the wax: a coin, lead type, a wooden stamp, a rubber stamp, a small figure, etc. In order to avoid the wax sticking on your implement you can use cooking oil or the like as a release release agent that you can put on it before pressing. 
Danger, Kolophonium = 26 - 34 %, Skin Sens. 1
Hazard warnings
H317: May cause an allergic skin reaction.
Safety instructions
P102: Keep out of reach of children.
P262: Do not get in eyes, on skin, or on clothing.
P280: Wear protective gloves / protective clothing / eye protection / face protection.
Downloads
Gutenberg sealing wax
5 Variants
Accessories and Related Products