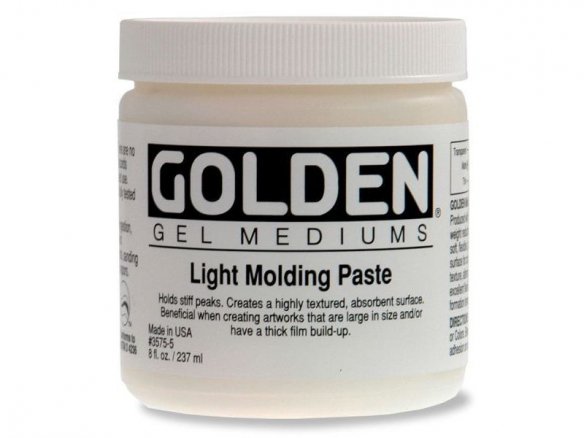 acrylic polymer binding agent with lightweight filler, water-based, extra pasty consistency, white and opaque; semi-matte when dry, absorbent, flexible, can be sanded; miscible with acrylic paints, other pastes, gels and painting mediums, waterproof, lightfast, age-resistant
The Golden Light Molding paste is 50% more lightweight than normal textural pastes, which makes it particularly great for applying extremely thick layers and markedly structured surfaces on large area projects. It is whiter than the other Golden Molding pastes - its extremely pasty consistency is similar to that of a cake frosting. When dry it forms a semi-matte, absorbent surface upon which a glaze application with acrylic paint is particularly beautiful. Light Molding paste can also be applied to three-dimensional objects and, after drying, can be painted, sanded or chisseled or further developed with additional layers as required.
Acrylic paints can be lightened with the Golden Light Molding paste instead of with white hued acrylic paint in order to achieve a more matte finish.
Golden Light Molding paste, 237 ml tub (3575)