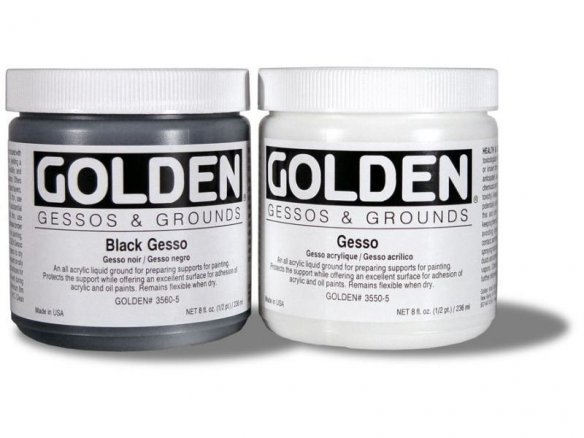 primer coat for acrylic and oil paints, pigments in acrylic copolymer, water-based, liquid consistency, high coverage (opaque), matte and flexible when dry, can be thinned with water, highly lightfast (non-fading), age-resistant, weather resistant, usage: ca. 125 ml per square metre
Golden gesso, which comes in white and black, is a ready-to-use, highly opaque primer for all the customary painting surfaces, even including plastered walls. Paints adhere better to surfaces treated with Golden gesso because it is mildly absorbent. When dry, this primer can be painted over with oils or acrylics.
Processing: Golden gesso should be applied in thin coats with a brush, roller, trowel or air brush. For the latter it must be thinned at least 25 percent with water. For highly absorbent surfaces like canvas at least two coats should be applied. If oil paints are to be used, three coats are advisable so that the surface will be rough to an appreciable extent. Applying the gesso in thin coats is important in order to avoid cracking after it has dried. If the plan is to sand it, sandpaper that can be used wet should be chosen (WET SILICON CARBIDE SANDPAPER). Acrylic paints as well as Golden gels and painting media can be mixed into this gesso in order to produce a special colour for your foundation coat or as a way to increase (e.g. with GOLDEN PUMICE GEL) or, alternatively, to decrease (with GOLDEN SOFT GEL) its absorption level.
Many of the Golden gels and pastes can be used as an alternative or as additives to the Golden gesso; for example, GOLDEN LIGHT MOLDING PASTE, GOLDEN PUMICE GEL or Micaceous Iron Oxide from the GOLDEN IRIDESCENT GEL line. In order to familiarized yourself with the textural possibilities of primer coats we highly recommend that you acquire the GOLDEN INTRODUCTORY ACRYLIC GROUNDS SET.