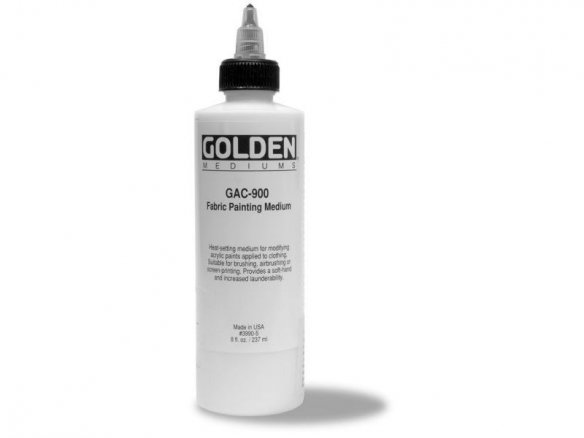 acrylic polymer binding agent, water-based, liquid consistency, milky-white in liquid condition
The GAC-900 fabric painting medium is used to modify Golden acrlyics so that they can be used - you guessed it! - to paint on cloth. When mixed with the GAC-900 at a ratio of 1:1, acrylic paints can be applied with a brush or by using silkscreening methods. It is white and flexible when dry and is machine washable up to 30 °C after it has been heat-fixed.
Processing: It is important that the intended piece of clothing be stretched out so as to be smooth and that something like a piece of cardboard be placed under the material so the applied paint will not colour the substrate or the back piece of the clothing. The best materials for painting are cotton or cotton blends. The thin liquid of the GAC-900 should be gradually stirred into the viscous acrylic paint which can then be applied with a brush or by means of a printing method. After allowing it to completely dry, the paint must either be heat fixed by applying a hot iron (medium temperature) to the back of the fabric or by putting it in a dryer (40 to 50 minutes at the highest setting). In doing this, care should be taken that there is good ventilation because the heat releases small amounts of formaldehyde. The painted fabric should be washed no earlier than four days later to be sure that it is completely dry.
Golden GAC 900 fabric painting medium, 237 ml bottle, for fabrics (3990)