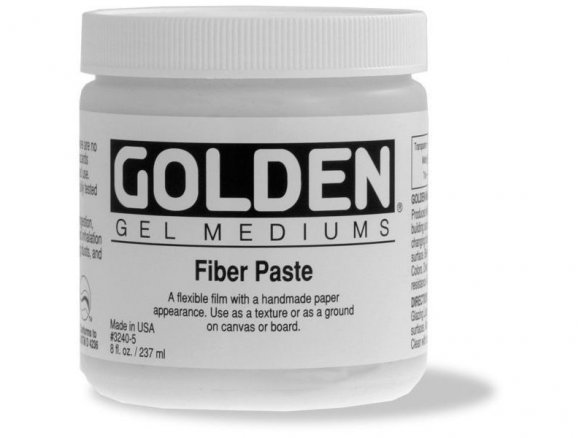 acrylic polymer binding agent with mineral fibres, water-based, extra pasty consistency, white-grey and opaque, with rough paper-like surface when dry, absorbent, flexible, miscible with acrylic paints
The Golden Fibre paste, which has a firm, rough consistency, looks like a rich cake frosting make with cream cheese - it is best applied with a palette knife. When cured, its surface reminds one of the surface of a rough, handmade paper and, ironically, it is just as absorbent. This makes it particularly great for wet painting techniques with acrylic and gouache paints or inks. Dry mediums like pencils, charcoal or pastel crayons can also produce wonderful effects on its surface.
Processing: In order to give the "paper" surface a beautiful, cream-coloured hue or the look of a recylcled paper the Fibre paste can be coloured with acrylic paints (e.g., Naples Yellow or Raw Umber from the GOLDEN HEAVY BODY ACRYLICS line). A smoother surface can be achieved if a wet palette knife is used flat to glide over the top. If this paste is applied to a smooth surface like, for example, a plastic film, the completely dried paste can then be detached from the film by pulling it free whereby you now have a paper-like skin which can be painted on or even cut with a scissors to make artistic shapes.
By the way - Fibre paste actually contains no paper fibres but instead has mineral fibres that have a much better archival quality (will last longer!)
Golden Fibre Paste, 237 ml tub (3240)