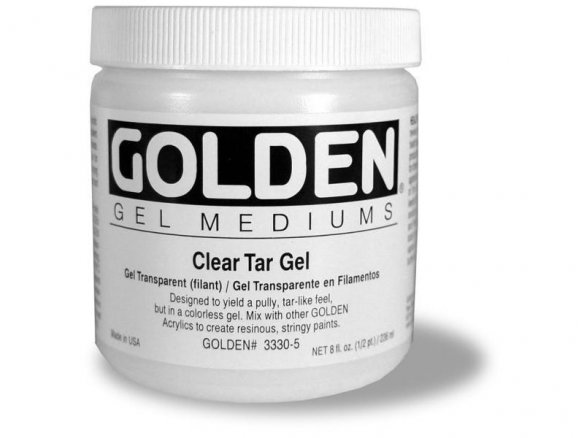 acrylic polymer binding agent, water-based, honey-like consistency, pourable, milky white when liquid, transparent colourless with a high gloss when dry, can be thinned with water, miscible with acrylic paints, waterproof, flexible, lightfast, age-resistant
Clear Tar gel has a syrup-like consistency that lends itself particularly well to making fine lines on your working surface - this is done by dipping a palette knife or other tool into the Clear Tar/acrylic paint mixture (if indeed mixed, the paint portion should be 10% or less) and letting it drip onto your working surface. Its "stringy" nature makes it easy to form the lines, which, when dry will exhibit a high gloss and smooth surface. Gel that has been mixed with paint should be allowed to stand for at least 24 hours in order to let any foam bubbles that have formed to escape into the air.
If the Clear Tar gel is added to more viscous acrylic paints in small amounts,  smooth surfaces without visible brush strokes will be obtained when the mixture is applied with a brush. If the application coats are too thick (over 3 mm), hairline cracks may arise.
For marbleizing (marbling), thinned acrylic paint should be allowed to drip onto a wet coat of Soft Leveling Clear gel and a rod or stick or toothpice or comb or whatever used to manipulate the floating paint into the desired pattern.
Golden Clear Tar Gel, 237 ml tub (3330)