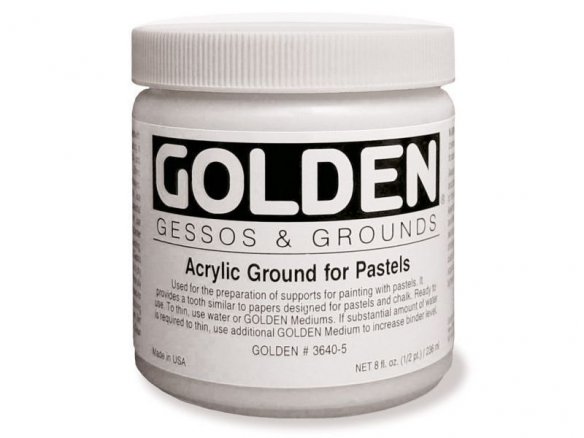 ground (primer) for drawing techniques on canvas, finely ground sand in a pure acrylic emulsion, water-based, translucent colourless, not ready-to-use (must be thinned with 20-40% water), has light grainy texture similar to paper when dry, also waterproof, flexible and age resistant when dry
The Golden Acrylic ground for pastels allows you to create a painting and drawing surface on canvas or wood that is light grained and similar to the surface of paper. Not only dry drawing mediums like pastel chalk, charcoal and chalk can then be applied but also oil- and water-based mediums like water-soluble pastel pencils, wax crayons or oil sticks. Because the ground is translucent colourless when dry, it can also be used as a "transparent gesso" that allows the base substrate to show through. If that is not desirable, the substrate should first be prepared with a white gesso. A small amount of acrylic paint can be mixed with this ground for pastels in order to form a coloured surface.
Processing: This viscous ground must be thinned with 20 to 40% water in order to obtain the desired consistency before use. One or more coats can then be applied with a brush, roller or sponge. Non-absorbent surfaces must first be sanded and then pre-treated with an appropriate primer like, for example, GESSO. 
Golden Acrylic Ground for Pastels, plastic bottle, 237 ml, white (3640)