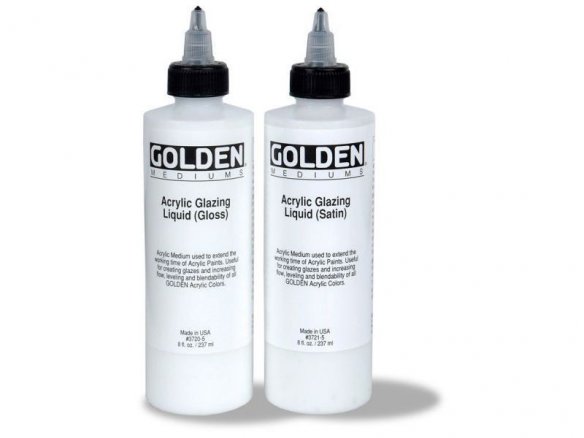 pure acrylic polymer emulsion, water-based, milky white, transparent colourless when dry
Acrylic Glazing Liquid is a painting auxiliary whose principal use is to lengthen the open times of acrylic paint; it does, however, also change the paint´s level of glossiness. It was originally designed for wall paints in the interior decoration field in order to enable techinques like glazing and faux finishing to be implemented with acrylic paint even though it is very fast drying. For artistic purposes it can be mixed with acrylic paint to produce a glazing effect - brush strokes are less visible and the transitionless overlapping of colours in the wet-in-wet technique is much easier to achieve. In addition, it can be used as a transparent primer.
Acrylic Glazing Liquid should only be applied in thin coats because it will otherwise not dry properly and become sticky. It can be mixed with all acrylic and latex paints in any amount until the desired glossiness and transparency level is reached. Adding up to 25% increases the application properties of acrylic paints; if a mixture of 10 parts Acrylic Glazing Liquid to 1 part acrylic paint is made, a transparent glazing paint with long open times will be the result. Depending on external conditions, the open time will run between 30 and 45 minutes. If the painting work is being done with a brush or roller, thinning with water is not recommended, but a dilution of up to 25% is fundamentally OK. Paints mixed with Acrylic Glazing Liquid will at first, when still wet, appear weak and pale but after drying will reach their actual brilliance.
Because Acrylic Glazing Liquid can be added directly from the bottle to acrylic paints it represents a good alternative to the GOLDEN RETARDER, the amount of which that can be added is restricted to 30%.
Golden Acrylic Glazing Liquid
2 Variants