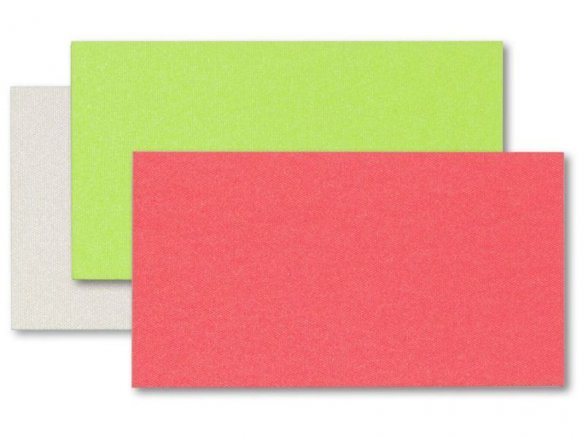 solid colour, wood free, from chlorine-free bleached pulp (TCF), one side with iridescent effect, reverse side matte without the effect, both sides with tiny dot imprinting
Gmund Action is a board which has tiny embossed dots over the whole surface which, by virtue of a special colouring technique, is iridescent. The board displays different visual effects depending on the perceived incident ray of reflected light. The board can seem to shimmer in two or three colours The embossing gives the board a really nice handy feel.
It is pH neutral and suitable for all established printing processes. Gmund Action is made from chlorine-free bleached pulp (TCF = total chlorine free). Because the colouring is done with natural pigments, the colour effects can vary under certain conditions. The usable width of the paper is 680 mm because the pigments cannot be applied all the way to the edge of the paper.
Special folders, cards or luxurious packaging can be made with Gmund Action. In addition, this board can be used in handicrafts as well as for special applications in model making. The following are particularly good for writing on this fancy board: GEL ROLLERBALL, ROLLERBALL, BALLPOINT PEN. The following pen should NOT be used: FABER-CASTELL PITT ARTIST PEN.
Gmund Action fancy board, coloured
8 Variants