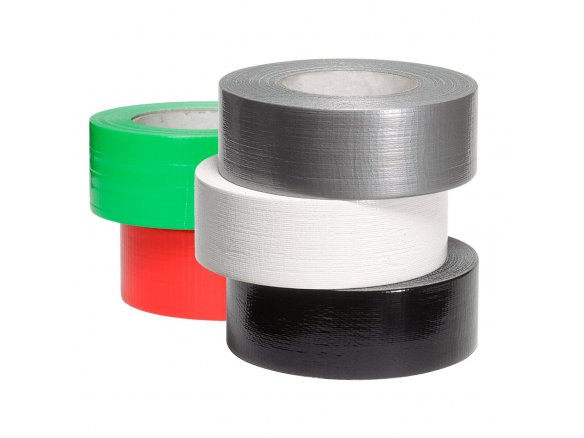 extremely strong permanent bond, extremely tear resistant, weatherproof, PE coated fabric carrier material (mesh 27), th = 0.18 mm; bonding agent is unvulcanized rubber
Gaffer tape comes in different colours and qualities from different producers. The tapes come with different kinds of adhesive (hot melt is the lowest and cheapest quality, unvulcanized rubber is the best quality). It also comes in different coatings and surfaces (matte/glossy) and the various coated fabrics have different mesh sizes. A tape with a more open mesh is more supple and better suited for uneven surfaces; a tape with a finer mesh and stiffer fabric (e.g. Gaffer fabric adhesive tape, matte), on the other hand, is most of all sturdier.
Often the terms "gaffer" or "gaff" tape are used to refer to any wide, strong fabric adhesive tape. This name has its origins in the word for the head of lighting on a stage or movie set – the gaffer – and generally means a sturdy fabric tape with high adhesive strength that can be torn by hand and which has proven to be easy to use for making quick fixes of various kinds on stage.
This fabric tape has a lightweight fabric base and is an economically priced universal adhesive tape. Its surface is somewhat glossy, which means it will give off reflections. It can be well used for taping wires, cables and other things that might be found on a stage set. It is also a great product to have ready at hand when working on a car or in your house because it can be used to repair or attach practically anything.
Gaffer fabric adhesive tape, glossy
5 Variants