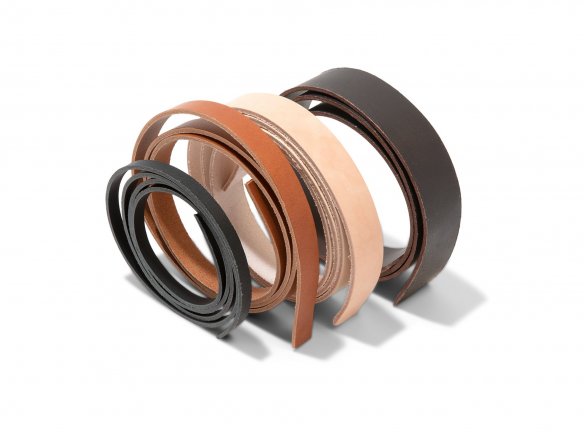 thickness of leather is ca. 2.8 to 3.2 mm, untreated (natural), solid colour (soak-dyed), full-grain with natural neck markings, vegetable tanned
Full-grain leather straps are shaped to whatever thickness is required for different types of leather goods by processing the rough "flesh" side of the hide. Rotating drum knives remove the shavings from the leather as they are cut.
Our full-grain leather strips are made from Middle European cowhides. They are vegetable tanned and dyed with high-quality dyes. The leather should be treated with oil so that it will stay supple. If the surface gets dirty it can be cleaned with a wet cloth and neutral soap solution.
Strips with a thickness of 2.8 to 3.5 mm can be used to make strap handles or fasteners for bags and backpacks. They can also be used to make belts or bridles for horses. Getalong little dogee!
Full-grain leather straps, coloured
11 Variants