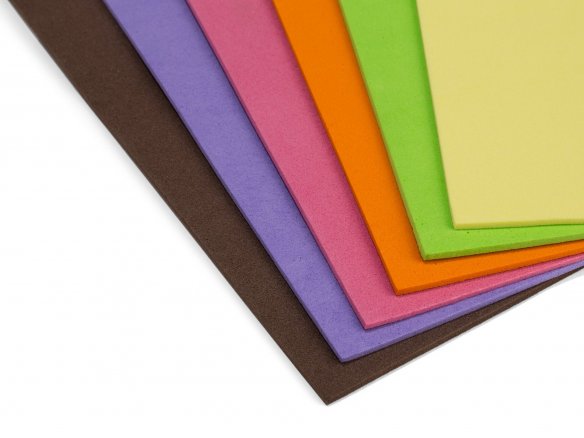 material

Ethylene vinyl acetate foam (EVA)

Shore hardness

app. 35 - 40 Sh-A
By definition, foam rubber is an open-celled foamed rubber made from natural and synthetic caoutchouc. Its core is porous like a sponge but its exterior skin is impervious – this makes it an integral foam. Profiles and cords made of foam rubber are primarily used as gaskets.
The foam rubber found on the market is close-celled which means that it is not technically foam rubber at all. It is made from EVA (ethylene vinyl acetate) and is distinguished by its excellent light and heat resistance (130 °C - short term, up to 150 °C). But, it should be noted, it is not really elastic at all when cold. Please keep in mind that the colours of the foam can change from one batch to another. Foam rubber is suitable for use as a toy but it should definitely not be swallowed.
Foam rubber can be cut with a blade or a scissors. Gluing work can be done with contact glues (e.g. PATTEX) or two-part adhesives (cyanoacrylate or polyurethane based) as well as with ALL-PURPOSE GLUE (for handicrafts).
Foam rubber, coloured, 2.0 x 200 x 300, black
43 Variants
200 mm × 300 mm
300 mm × 400 mm
500 mm × 700 mm
Note
Please note that because of the labelling the actual usable area of the sheets lengthwise and crosswise in reduced by about 20 mm.

Please note that the colours und thickness can vary from order to order.