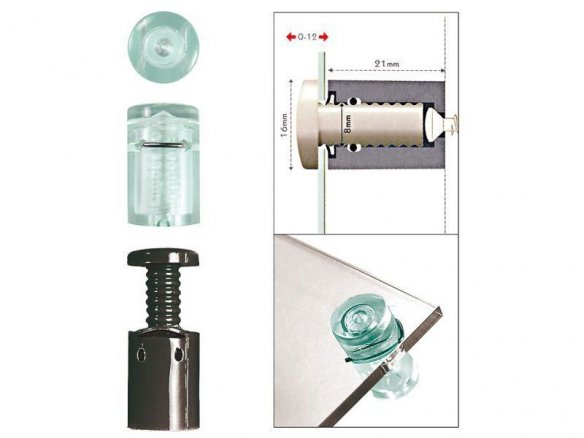 variable racheted clamping system: distance piece and attachable sleeve for mounting wall signs with drill holes of 9 mm, made from various plastics (see colour examples), comes with screws, dowels and stainless steel spring for security (for quantity see number of wall mounting points), given dimensions: d = distance between the wall and the back side of the sign, th = feasible thickness of the sign
Fisso fixxo is our most reasonably priced mounting system for wall mounts not flush with the wall and is mounted as follows: mark the holes on the wall, drill them and insert the dowels, screw the distance piece onto the wall, push the attachable sleeve through the holes in the sign and click them into place in the distance pieces by means of the rachet mechanism.
Despite the reasonable price, this mounting system also includes a theft protection mechanism in the form of a small stainless steel spring which is inserted from the side as the last step. The manufacturer recommends a maximum load of 5 kg per mounting point.
As a special feature Fixxo is also available with a flat head for invisible mounting without holes: mount the distance sleeve to the wall as described, fix the back side of the panel to the Fixxo head with super glue, double-sided adhesive tape or silicone, slide it into the distance sleeve and secure it with the spring. The wall distance is then adjustable from 24 to 35 mm by means of the 1 mm stepped rachet-system.

Fisso fixxo wall mount
3 Variants