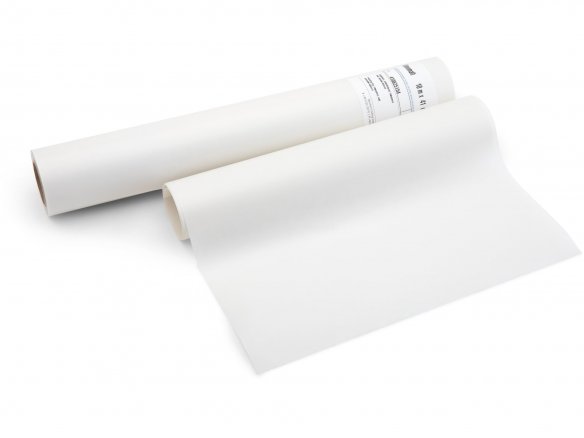 transparent, colourless, matte, for interior and exterior use, UV stabilized monomer plasticized PVC, th = 0.08 mm, solvent and acid free acrylate adhesive, adhesive strength is ca. 7 N/25 mm upon application and ca. 12 N/25 mm after 24 hours), reflection-free; paper release liner
Filmomatt is a transparent, matte soft-PVC film that is self-adhesive on one side. The film is washable and can withstand treatment with numerous cleaning agents and solvents. It is coated with a solvent and acid free acrylate adhesive that is distinguished by its extreme adhesive strength, its resistance to aging and its permanent elasticity.
Filomatt is pliable, foldable and flexible. This film is not only great as a protection for books against soiling and other environmental influences (like UV rays) during interior and exterior use, but also for things like construction blueprints or digital print media. The matte, non-reflecting surface can be written on with a soft PENCIL or film pen (e.g. STAEDTLER LUMOCOLOR).
The film can be worked with at temperatures from -30 degrees to +50 degrees centigrade. Please note that short-term exposure to temperatures over 70 degrees centigrade or continuous heat exposure over 50 degrees centigrade can lead to discolouration of the film. Prints should be allowed to dry for at least 12 hours before you attempt to laminate them with Filomatt. When used outdoors, the edges and any seams must be sealed (with clear varnish or by folding over the edges) in order to avoid moisture from getting in.
Filmomatt book cover adhesive film, matte
2 Variants
Note
The minimum order for products sold from rolls: 0.5 running metre. Please note that no exchange is possible in the case of products cut from rolls and pre-cut pieces.