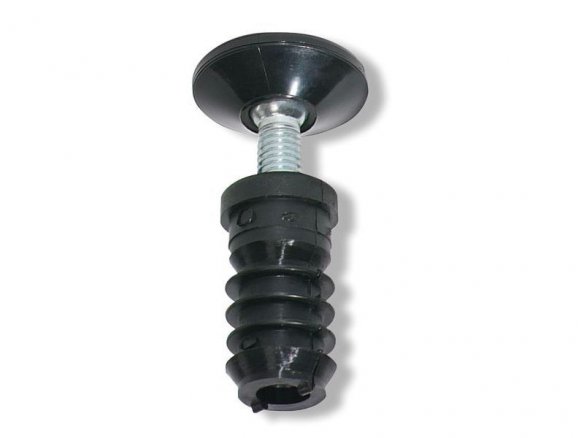 hard plastic tube plugs with inner threads, machine screw with attached plastic plate or with a ball-shaped head and inclinable plastic plate
Table tops normally lie upon the hooded plugs at the top end of the side frames and extends beyond them on all sides. This presents no problem when the table top is heavy enough that it will not slip or slide. If you want it to be more secure, however, there are a number of possibilities: anti-slip rubber plugs can be introduced; the fasteners for table tops can be used to allow screwing the table on; the height adjuster with solid plate also enables a screw attachment to the side frames. The height adjusters can also be outfitted with suction cups which, in comparison to a screw based attachment, have the advantage that the underside of the table top remains undamaged so that the table top can be turned over when the top surface has become marred. If the table is to stand on an uneven surface, the adjustable feet as level-balance will be extremely helpful.
If you want to set the table top at a slant with the height adjusters, it is advisable, after a certain angle, to implement the fasteners for inclined tops because otherwise the table top can, in the worst case, slip off. In this version of slant setting, the rear plates would be screwed to the table top but the forward plates would not.
The rubber casters (set of 4: load capacity up to 40 kg/roller) lend mobility to the E2 – the rollers are designed to be inserted into the side pieces (expansion inserts are included) and fixed into place with an Allen screw. This screw is in a hard to reach place necessitating a short ALLEN KEY; we have the right one in stock under ACCESSORIES FOR TUBE AND PIPE CONNECTOR SYSTEM ø 25 MM. Each roller has its own brake, which guarantees that the table construction is stable and that it will stay solidly in place when necessary
Fasteners for E2 table frame
2 Variants