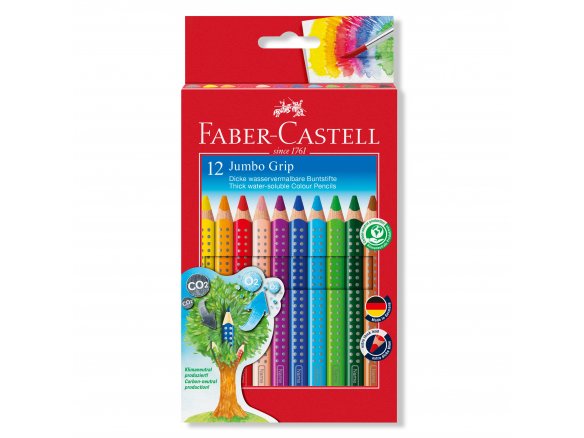 coloured lead has 5.5 mm diameter, continuously glued and fracture-resistant, watercolour lead, washes out of most textiles; triangular casing (barrel) with non-slip Soft-Grip-Zone and name field, casing painted the colour of the lead
The Jumbo Grip is fat, handy and triangular – fat means in this case about 10 millimeters thick, which is why it sits in your hand so nicely or even in your kid's hand too. Because Faber-Castell does not use any wax or grease as a means of impregnating the lead (it uses an emulsifier instead), the lead is watercolour suitable – similar to our ART GRIP AQUARELLE COLOURED PENCIL although in comparison to which the Jumbo is somewhat harder and has a less saturating colour stroke.
The colour pigments of these coloured pencils are completely non-toxic. Even the paint on the casing is environmentally safe and water-based – which means that you don't have to worry if you see a loved one chewing on the thing between strokes (of genius, of course)! The pencil can be sharpened using any conventional pencil sharpener designed for large diameter pencils.
Faber Castell Jumbo Grip crayon, set of 12, set of 12 in carton, incl. sharpener